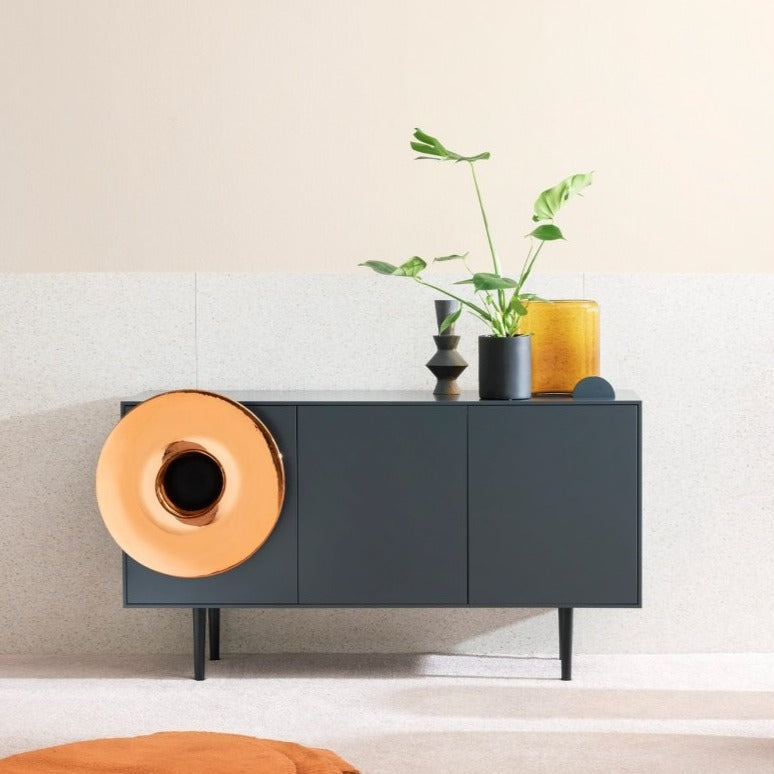 The Miniforms Caruso Buffet: An icon
Caruso Cabinet - The Italian Touch
The Art of Craftsmanship: A Look into the World of Miniforms
The Miniforms Caruso Cabinet is a truly unique and sophisticated piece of furniture that combines sleek design with practicality and high-quality sound. Named after the renowned Italian tenor, Enrico Caruso, this cabinet is a testament to the timelessness of true beauty and quality.
With its minimalistic shape and elegant design, the Caruso cabinet can be easily incorporated into any architectural environment. But it's not just about the looks – this cabinet also includes a Hi-Fi system with Bluetooth 4.0 connection, offering rich, high-performance sound at the touch of a button on your smartphone. The speaker has 50 watts of power, and there is even the option for a motion sensor LED light.
The Caruso cabinet is available in two sizes and many different finishes: lacquered, canaletto walnut, heat-treated oak, flamed oak, vintage oak and more. The trumpet speaker is made of ceramic, or can be made in gold ceramic 24K for a truly luxurious touch. The body of the cabinet is made of wood with a painted or veneered finish, and all models feature sleek, matte black legs.
This sideboard is equipped with the most unique audio system featuring a high-quality Bluetooth connection, allowing you to enjoy the music from your device in stunning high definition. It's almost like a ritual – sit down, press play on your smartphone, and let the vibrations transport you to another place. The Miniforms Caruso cabinet invites you to take a break, relax, and find yourself again.
Miniforms
: A Legacy of Italian Craftsmanship and Elegance
Elegance, lightness, and expressivity are the guiding principles of Miniforms, a brilliant and charismatic Italian design firm that has been crafting beautiful and functional pieces of furniture for over 40 years. Based in the heart of Italy's furniture district, Miniforms has a long-standing tradition of craftsmanship and attention to detail that is evident in every piece they create. From sleek and modern to warm and traditional, the company's innovative designs and high-quality materials have helped them craft a home furniture collection that is capable of seducing, capturing attention, and conquering hearts.
Craftsmanship is a family heritage at Miniforms, and each piece is made to last. Glassmakers, ceramicists, and carpenters work together to create finished objects that showcase their individual skills in a complementary context. The makers of Miniforms inherited the know-how of their family's traditions, making them an essential part of the furniture-making process. Explore Miniforms here.
Discover the Possibilities: The Versatility of Buffets and Sideboards
A buffet or sideboard is a versatile piece of furniture that can be used in a variety of ways in the home. These pieces typically have a long, low profile and offer ample storage space for dishes, linens, and other items. They can be used in the dining room to store and display china and serveware, or in the living room to hold books and other decorative items. Some buffets and sideboards even come equipped with wine racks and built-in lighting, making them perfect for entertaining. With a wide range of styles and materials to choose from, including classic wood designs and modern, minimalist options, it's easy to find a buffet or sideboard that will complement any home decor.
Explore our range of credenzas and sideboards here.
Sideboards and Buffets are a perfect blend of beauty, design, and functionality. Expect drama and a lot of joy as you bring home one of these pieces, and celebrate the luxury of living with them. Crossing the boundaries between art and design and building on the clean, functional elegance of modernism, they brings the core principles of modernism into the post-digital era.