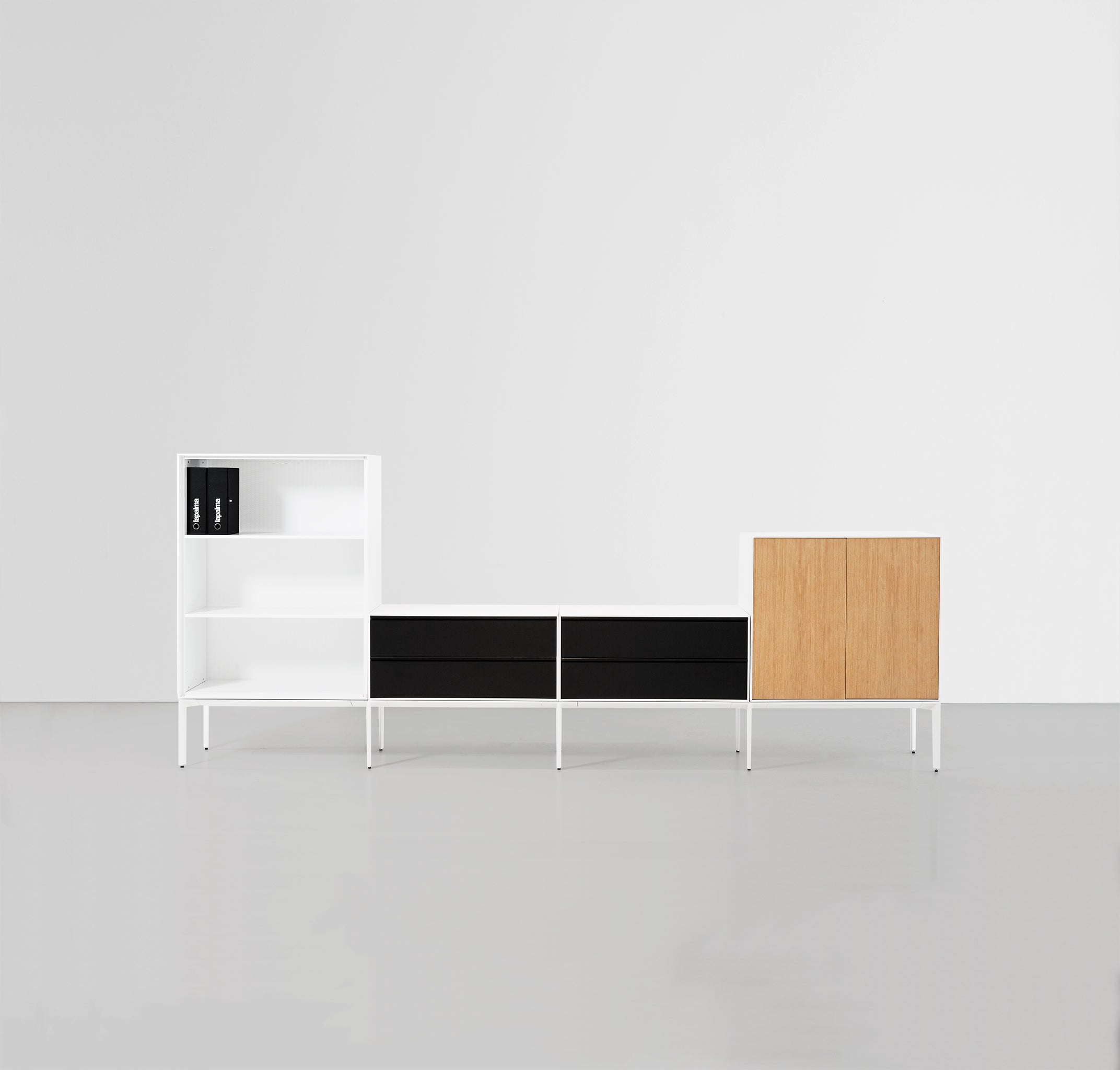 High End Modern Office Furniture designed to excite and surprise
Design enthusiasts are always searching for the perfect office storage solution.
And here at Modern Loft we think we've got what you need.
These are rich and varied collections that have modular structures that'll allow you to arrange the elements in absolute freedom, generating infinite combination possibilities.
They also demonstrate a sophisticated design that'll lend a modern oomph to your office space.
Modern office shelving with a minimal silhouette
Documents, books and objects. Memories and visions of the future. Metal units can be arranged in a versatile way, combined with tables, thus creating work stations.
Double-sided, open or closed with drawers and doors, these furniture units easily furnish the center of a room and its walls. The same flexibility can be found with finishes and colors that enhance monochrome rigor or add contrasting effects with the different shades of seating and cushions.
Fabric or eco-leather upholstery makes this ADD S furniture unit for the office truly unique. It is ideal for housing objects, books or files.
ADD S is A modular office system that is highly adaptable and customizable
The ADD SYSTEM follows this concept, combining ADD, ADD T and ADD S modular collections in a single furnishing philosophy. Consistent and versatile, the various elements complement each other, competently meeting the needs of a modern office. Also with its variety of materials, colors and dimensions, ADD SYSTEM achieves an entirely Italian goal: to customize industrial production. 
An Office armchair that creates a mood
The office chair par excellence, UNO has an impressive high backrest, a cross base and a central column.
It has such an original character that it transforms and happily remains the same. With its minimalist versatile design, the UNO chair is part of a system, intended for different roles and moments in the office and the home. The seat is the standard feature, whereas the backrest varies: high for the executive version for maximum back support, and lower for relaxing in any environment. Colors, materials and base supports provide countless options. What remains unmistakable is the simplicity of a great idea.
A modular office sofa that keeps the creativity flowing
They look for and attract each other. This combination of shapes and colours gives rise to PLUS sofas, a system of modular elements that enhance the character of all community spaces. The profile is soft and the seat is generously wide enough to accommodate the body lying down. A host of solutions can be found, thanks to an extremely simple linking system that re-arranges shapes and redefines the profile. A small but important world for gathering at home, in the office or in any space. And when you want a moment to yourself, the SCREEN panel, which can be used as a backrest, creates a very discreet area.
The Lapalma pass chair is a centerpiece for conversations
Like waves on a calm day, they rise, gently fall and extend as far as the sand, infinitely. PASS armchairs are inspired by these lines, expressing the continuous rhythm of the sea in their profile. The design is fluid and embracing. The wide base adds lightness and comfort to the seat. Pass is ideal for the office or the home, and for those waiting in an airport lounge, dreaming of departing.
Discover more office solutions here.