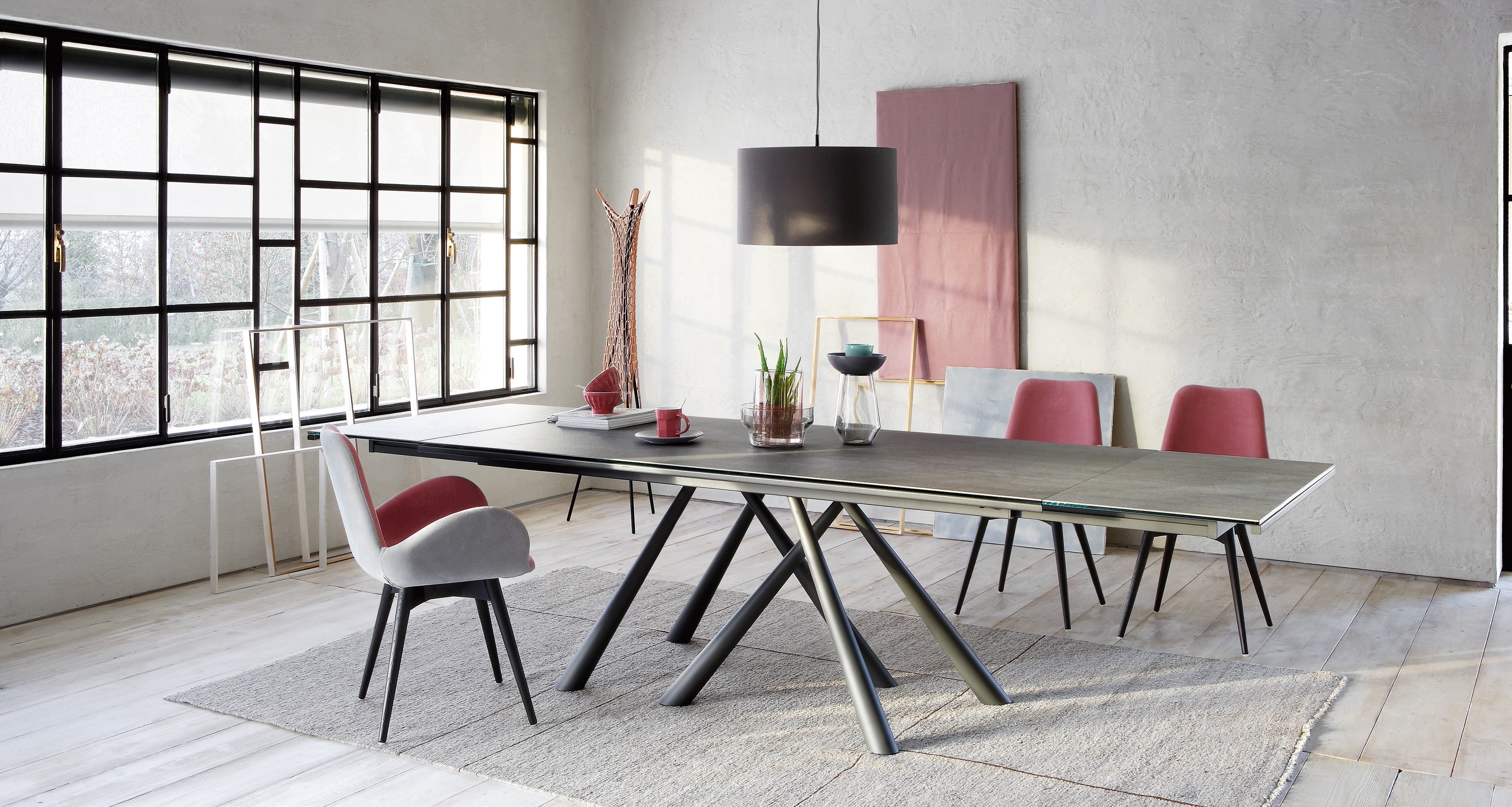 Midj in Italy | Spreading the best of design around the world
Midj: A brand that moves beyond the usual stereotypes. 
Midj is an esteemed Italian brand with a rich history. It's a brand that brings character to every space with its cherished designs. Collaborating with renowned Italian and international designers, they craft aesthetically captivating furniture. Their dedication to quality shines through. Expertise is at their core, blending industrial capacity and advanced technology. But their mastery extends beyond craftsmanship. They redefine furniture, creating delightful and stylish pieces for moments of happiness and comfort. With Midj, it's all about the essence of "Made in Italy." In this article we will explore the Midj's design philosophy, it's collaborations and how their products are used. 
Design Favorites from the Midj Collection
Midj works with top designers from Italy and around the world to make furniture that adds character and style to any space. They're deeply committed to quality and use advanced technology to go beyond just craftsmanship. Their blend of industrial strength and tech innovation sets new standards in furniture design. Let's explore the best of Midj's products.
 You can explore the full collection of Midj's products here.
Midj's Design Philosophy and Craftsmanship
Welcome to an exploration of Midj's distinguished design philosophy and craftsmanship. We're excited to delve into what sets Midj apart and drives their commitment to excellence in furniture design. This spotlight on their core principles will provide insights into the inspiration, innovation, and dedication behind their exceptional products.
The Essence of Italy: Italy is much more than a mere production location for Midj. It represents a way of life that has profoundly influenced the brand since its inception in 1987. Their commitment to designing, interpreting, and innovating the concept of furniture is deeply rooted in this rich cultural heritage.

Combining Artisanal Care with Industrial Production: Over the course of more than three decades, Midj has masterfully bridged the gap between artisanal craftsmanship and large-scale industrial production. This unique feat ensures that the hallmark features of meticulous craftsmanship, including attention to detail and the creation of high-quality products, remain integral to their manufacturing processes.

A Dedicated Team with a Code of Ethics: At the heart of Midj's global operations is a team of men and women guided by a comprehensive Code of Ethics. This code not only guarantees professional and competent support but also fosters a culture of ethical conduct and excellence that permeates every aspect of their work.

Italian Know-How: Midj's strength derives from the fusion of industrial capability and advanced technologies with an unwavering commitment to expertise that transcends the boundaries of conventional craftsmanship. It's this wealth of knowledge that drives the essence of their company, underpinning every project they undertake.

Soft Design for Comfort: Midj's design philosophy is dedicated to creating spaces that are not only aesthetically pleasing but also real, bright, and infused with joy. Their concept of "soft design" incorporates elements like flowing lines, rounded corners, and plush padding, all meticulously designed to provide moments of pure happiness and comfort.

Versatility and Continuous Innovation: Midj's collections are born from a relentless pursuit of versatility, offering ideal solutions for both public and private spaces. Their commitment to innovation is unwavering, continually exploring new materials and color palettes to ensure that each piece remains a fresh and contemporary addition to your space.

Quality Assurance and Certifications: At Midj, the concept of quality isn't a theoretical concept; it's a tangible value that influences every aspect of their daily processes. Their dedication to maintaining the precision and excellence of artisanal craftsmanship in large-scale production is certified to meet the stringent ISO 9001:2015 quality standards.

Environmental Responsibility: In addition to their focus on quality, Midj is deeply committed to environmental responsibility. They adhere to ISO 14001:2015 standards, which are focused on reducing energy consumption and minimizing pollution. Some of their products also hold specific international certifications that guarantee excellence and safe use.

Code of Ethics for Virtuous Behavior: Midj's Code of Ethics serves as a moral compass, encouraging virtuous behavior and ethical practices. This commitment to ethical conduct allows them to seamlessly integrate sound business management with societal expectations, ultimately creating a culture of innovation and self-improvement within their team.

Global Professional Support: Guided by the principles of their Code of Ethics, Midj's team offers professional and competent support on a global scale. Their commitment to excellence and ethical behavior knows no boundaries, ensuring that customers worldwide receive the highest level of service and expertise.
This comprehensive approach to design and craftsmanship forms the foundation of Midj's commitment to quality, innovation, and ethical conduct.
Midj's Inspiring Creative Innovation Process
Midj's Research and Development department, known as the "Officina delle Idee" or Workshop of Ideas, stands as the birthplace where creativity and innovation converge. In this hub, ideas take tangible form, evolving from conceptualization to design drawings and finally into meticulously crafted prototypes. The journey from idea to design product requires time, dedication, and immense passion, a journey that Midj is wholeheartedly in love with. The Officina delle Idee is driven by a dynamic team of five specialists, each contributing their unique skills in 3D modeling, carpentry, metalworking, and project management. Together, they strive to infuse innovation into every product and explore novel solutions. This department is a dynamic space, akin to a design gym, where various style exercises are performed, innovative materials and processes are tested, and every element is refined until perfection is achieved. It's a place where, in the pursuit of greatness, even apparent mistakes become valuable lessons. Cutting-edge machinery and technical tools are their trusted companions, simplifying and accelerating the design process.
The creative spark ignites with designers who bring their ideas to the table, serving as the catalyst for the entire creative journey. Designers, in collaboration with Midj's skilled technicians, refine their concepts, resulting in the birth of new design elements. From that point, prototypes are meticulously crafted, paving the way for the industrialization phase and the eventual global distribution of the product. With an array of materials, from metal to wood, marble to ceramic, hide to fabric, and polypropylene, the team experiments and chooses the ideal materials to shape each unique idea, driven by a blend of practicality, aesthetics, and the creative intuition of the designers. The journey from concept to reality is a testament to the collaborative spirit and unwavering commitment of Midj's team in crafting greatness.
Frequently Asked Questions 
Where can I purchase Midj's furniture and products?
Midj's furniture and products are available through various authorized retailers and dealers both in physical stores and online. The full collection is available at Modern Loft.
Does Midj offer customization options for their furniture?
Yes, Midj offers lots of customization options for their furniture pieces. You can often choose from various materials, colors, and sizes to tailor the furniture to your specific needs and preferences.
What certifications and quality standards do Midj's products meet?
Midj complies with ISO 9001:2015 for quality standards. They are also committed to environmental responsibility, holding ISO 14001:2015 certifications. Additionally, specific international certifications are obtained for some products to ensure excellence and safety.
Can I find quick-ship options for Midj's products?
Yes, Modern Loft offers quick-ship options for select products. These are readily available in the US and can be delivered to your home or project more efficiently.