Indulge in the Best: The Most Coveted Modern Luxury Furniture Brands
10 Luxury Furniture Brands to Design Your Dream Home
Welcome to the world of luxury furniture, where the pieces are not just functional, but also designed with intention and care. Whether you're furnishing your home or office, investing in modern luxury furniture will take your space to the next level. When it comes to the best of the best, there are certain luxury furniture brands that stand out for their unique designs, high-quality materials, and impeccable craftsmanship.
These brands offer more than just furniture; they provide statement pieces that reflect one's personality and style. They understand that the way one decides to furnish their home speaks volumes about their taste and sophistication. That's why we've curated a list of 10 modern luxury furniture brands that will meet and exceed your expectations.
From iconic brands that have been around for decades to innovative newcomers shaking up the industry, there's something for everyone on this list. Each brand has its own signature style and features distinct elements that make them stand out. Whether you're drawn to organic forms, perfect symmetry or Scandinavian minimalism, there's a luxury furniture brand out there that'll become your new favorite.
We'll dive into the unique features of each brand, so you can get a sense of what makes them so special. Get ready to be inspired and dazzled by the world of modern luxury furniture. With these brands in your arsenal, your home will be transformed into a sanctuary of style and elegance.
Billiani | When Art Meets Function
Billiani is an Italian modern luxury furniture brand known for its focus on quality and design. Founded in 1911 by Ottone, Orlando, Lino and Bruno Billiani, the brand has been producing furniture for over a century and is still run by the same family today. Billiani furniture is made entirely in Italy by skilled craftsmen, ensuring that each piece is made to the highest standards. One of the key elements that set Billiani furniture apart is their commitment to sustainability. The brand uses wood from responsibly managed forests and employs eco-friendly production methods. This focus on sustainability is evident in the durability and longevity of Billiani furniture, which is designed to last for many years and can be easily repaired or refurbished. In addition to their sustainable practices, Billiani is also known for their innovative designs. The brand's designers draw inspiration from both traditional and contemporary sources, resulting in modern luxury furniture that is both timeless and on-trend. Their seating collection, in particular, is highly sought after, with a wide range of styles to choose from, including everything from classic armchairs to modern lounge chairs. Billiani furniture can be found in homes and offices around the world, and the brand has a reputation for providing high-quality products that are both functional and beautiful. Whether you're looking to furnish a single room or an entire home, Billiani offers something for everyone. With a focus on quality, design, and sustainability, Billiani furniture is the perfect choice for anyone looking to add a touch of luxury to their home or office.
Shop Billiani
Midj | Redefining Luxury Furniture Manufacturing
Midj is a modern luxury furniture brand known for its innovative modern designs. Named after the owner's children, Miriam and Rudi, it remains a family business dedicated to designing bright, beautiful products for daily life. Established in 1987 in Cordova, Italy, they specialize in producing a wide range of furniture such as dining tables, chairs and stools. All of Midj furniture is entirely made in Italy using a perfect synergy of craftsmanship, creativity and technology. This combination is what makes Midj stand out in the world of modern luxury furniture. Quality is a top priority for Midj and they always guarantee high-quality products. This is reflected in their Integrated Management System which is certified according to ISO 9001:2015, ensuring that Midj furniture meets the latest quality standards. The brand is also committed to environmental sustainability, as demonstrated by their ISO 14001:2015 certification, which involves suppliers in reducing energy consumption and pollution. With a wide range of styles to choose from, Midj furniture is versatile and stylish, thanks to its durability and longevity. Midj epitomizes Italian design: deceptively simple-innovative and uber chic.
Shop Midj
Miniforms | The Power of Color
Miniforms is an Italian modern luxury furniture brand that has been creating beautiful and unique designs since the early 1970s. Known for their experimentation with materials, colors, and an avant-garde style, Miniforms furniture is entirely made in Italy by skilled artisans who are committed to making craftsmanship last. The company's goal is to revolutionize the often-stereotyped vision of common, everyday objects and create furniture that is both functional and visually appealing. Whether it's a dining table or coffee table Miniforms furniture collections are versatile and stylish, perfect for the modern home or office. The brand's commitment to originality and excellence has earned it numerous awards and recognition in the industry. One of the most notable designs in the Miniforms collection is the Soda Coffee Table by Yiannis Ghikis, which has received numerous awards for its unique and innovative design. The unique features of the Soda Table stem from the skill of the artisanal process. The design has collected six Awards that have made it famous in the world of modern luxury furniture, the Archiproducts Design Awards, Azure, ADI Design Index and Dezeen Awards.
Shop Miniforms.
Punt Mobles | It's all in the Details
Punt Mobles is a Spanish furniture brand known for its beautiful wooden sideboards and storage pieces. Established in the 1960s, the company has grown to become a leading player in the world of modern luxury furniture. Punt furniture symbolizes good design and contemporary craftsmanship, values that are evident in every piece they create. Their designers bring the core principles of modernism into the post-digital era. In 1997, Punt Mobles was awarded the National Design Award, a testament to the company's dedication to creating high-quality pieces that are both functional and beautiful. With a focus on storage pieces, Punt's low sideboards are a particular standout, with their sleek designs and attention to detail. Their commitment to artisanal workmanship and know-how is reflected in the architecture of each Punt furniture piece, making their products truly unique and special. Each piece is handcrafted, like an art collector's treasure. With a strong focus on craftsmanship and design, Punt Mobles stands out in the world of modern luxury furniture.
Shop Punt Mobles.
Lapalma | When Luxury Meets Functionality
Lapalma is an Italian brand that exemplifies excellence in the world of modern luxury furniture for creating beautiful and functional furniture with over 40 years of design and manufacturing experience. Lapalma specializes in creating furniture for both home offices and contract spaces, with a focus on quality, elegance, and durability. Their collection includes a wide range of products such as chairs, armchairs, tables, stools, and storage systems that are designed to be used in both public and private spaces. Lapalma furniture is made with the utmost care and attention to detail, using the best materials and advanced technologies. Lapalma is known for their innovative designs, which are the result of collaborations with international designers. Some of their most notable designs include the Lapalma Lem stool, designed by Shin and Tomoko Azumi, which received the prestigious Red Dot Design Award, and the Lapalma ADD System, designed by Francesca Rota, which was awarded the Good Design Award. Lapalma furniture stands out as exceptional for its high quality. Created as both beautiful and functional, they are constantly pushing the boundaries of modern luxury furniture design and technology to create new and exciting products.
Shop Lapalma.
Wo
ud | When Minimalism Meets Luxury
Woud Furniture, a Danish brand, was founded by Mia and Torben Koed, who put their 30 years of experience into the brand. Their challenge was to build an ambitious modern luxury furniture brand from the ground up with high-quality materials and great attention to detail. With a drive to create new originals, the Woud collection was founded upon the idea of looking ahead instead of looking back and sharing the love for honest design. The brand wanted to explore what the designers of tomorrow were able to come up with, and today they collaborate with some of the brightest upcoming and experienced designers from a wide range of countries. Each designer has his or her own expression, but together they share a modern interpretation of Scandinavian simplicity. Woud believes that timeless design can express personalities, evoke feelings, inspire people, and create beautiful spaces. With a broad and deep selection of Scandinavian furniture and home accessories, Woud Furniture wants to bring modern design into the homes of people worldwide. The mission of Woud Furniture is simple - to create timeless designs with great attention to quality, simplicity, and honesty. Their take on simple expressions and functionalities in their range of furniture and accessories aims to make the home a little less complicated and a little more beautiful. The concept of Nordic design is executed in a sophisticated and elegant manner, and each design has a story that comes to life. The design follows the philosophy of less is more and is reflecting the values of Woud, making it a modern luxury furniture brand that truly shines.
Shop Woud Furniture.
Volver | Layering for Luxe
Volver Studios is a Norwegian design studio that offers premium, curated collections of rugs for private and public spaces. Their founder, Ksenia Stanishevski, aims to bring individual artistry and creativity into our environments, working at the intersection of art, design, and handcrafting. Volver's work is exhibited in fairs and museums globally. They produce hand tufted rugs through collaboration with Indian rug producers, utilizing India's proud tradition of making high-quality rugs while working towards improving the industry ethically, socially, and environmentally. All of Volver's products are made only with natural materials such as wool, bamboo, silk, jute, and organic cotton. The collection of Volver rugs designs fuses Scandinavian design, modern digital technology, and traditional national textile crafts of Scandinavia and India. They encourage individuality through their distinctive and bold designs and customization services, catering to interior retailers, architects, agents, and private clients. The production process is an explorative and unique journey, and Volver works closely with Norway's and international artists, designers, and architects to merge individual creativity, users' needs, and technological possibilities. Volver rugs work best in spaces designed with other luxurious modern furniture, complementing the richness and uniqueness of its environment. All Volver rug designs aim to enrich the notion of Scandinavian design with a vibrant diversity of artistic and individual expressions. A rich Volver quality is reflected in their continuous efforts to sustain and develop the Indian rug heritage while using high-quality natural materials in production. Their collections push the limits between art, design, and craft while exploring themes such as Anthropocene, urbanism, the theory of color, history, the human condition, and ecology. Volver's hand tufted rugs find unexpected expressions between the new and familiar, constantly experimenting with scale and pushing the possibilities of available technology and traditional handcraft.
Shop Volver Rugs.
Pinetti | The Power of Luxury Accessories in Interior Design
Pinetti is a luxury modern brand that combines traditional Italian craftsmanship with innovative technology. The company was founded in 1983 by Alberto and Ezia, who started creating one-off pieces for their home and eventually turned their passion into a business. Pinetti's products include leather baskets, trays, and furnishing accessories that immediately made an impact in the interior decoration market due to their rich designs and quality manufacturing. Pinetti has since evolved into a company that satisfies even the most demanding clients' requests through made-to-measure technology, streamlined processes, and meticulous attention to every detail. The Pinetti leather production process combines advanced artisanry with technological minds and means, resulting in a flexible workflow and plenty of opportunities for customization. The Pinetti leather products are the result of a wealth of skills and values vital for keeping the company's creative and productive cogs turning. Pinetti represents the "Made in Italy" idea by tying together culture and innovation with an unbreakable bond, reflecting the company's journey of discovery of Italian excellence. Handsomely crafted Pinetti leather products can be found in prestigious stores and showrooms across the world, including in design capitals such as Milan, Paris, London, and New York. Pinetti's strong export power has enabled them to reach a global audience and provide their customers with unique and high-quality products that embody the best of Italian craftsmanship and innovation.
Shop Pinetti.
Brokis | Illuminating Elegance
Brokis is a Czech brand that specializes in premium lighting collections that have gained international recognition for their exceptional design, quality, and craftsmanship. The company uses a combination of handblown glass and other refined materials, including wood and manually pressed metal, to create bold lighting compositions that push the boundaries of contemporary design. With its own high-capacity production facilities rooted in more than two hundred years of history, Brokis is able to experiment and develop innovative materials, techniques, and technologies as well as offer bespoke lighting solutions. Founded in 2006 by Czech entrepreneur and engineer Jan Rabell, Brokis Lighting was created to elevate and enliven Bohemian glassmaking and to preserve generations of knowledge and craftsmanship. To accomplish this, Rabell acquired the ailing Janštejn Glassworks, founded at the start of the 19th century, and built new Italian-style furnaces to refine production techniques. The glassworks in Janštejn, where Brokis products are created, has gained its stature thanks to innovative methods incorporated there. The collections by Brokis Lighting are designed by renowned Czech and international designers and frequently receive international recognition in prestigious design competitions across the globe. Brokis's portfolio features modern functional lighting fixtures, decorative objects, and unique lighting solutions for architects and interior designers, and its renowned lighting collections can be found in 70 countries at the world's top design exhibitions alongside other modern luxury furniture. With its innovative material, BROKISGLASS, which utilizes glass shards that were previously considered waste, Brokis is a leading innovator in glass lighting and has firmly established itself in the world of modern luxury furniture.
Shop Brokis Lighting.
Linie Design | When Tradition Meets Innovation
Linie Design is a Danish design company that specializes in creating modern rugs. The company offers a wide range of rugs in different materials, patterns, and expressions, including tuft, kilim, handloom, and loom-knotted methods. Linie Design rugs are made by Indian master artisans who have perfected their skills through generations. They use traditional craftsmanship and exclusive techniques to create outstanding durability in their rugs. The hand-tufted rugs in their collection offer a wide range of elegant, sophisticated, and exquisite Danish designs that frame your particular lifestyle. The small and large rugs in their collection are made of the finest materials and hand-woven or hand-knotted using old, exclusive techniques. The patterns of the rugs are diverse, and the wealth of surprising surfaces, including felted, soft, rough, glossy, and flat, add to the uniqueness of each rug. The designs use expressive patterns, colors, and structures to create exquisite handmade rugs that take woven art to a new dimension. Founded in 1980 the values of tradition and unique craftsmanship are embedded in the DNA of all Linie Design rugs. Designed by acknowledged Scandinavian designers and handmade by Indian master artisans, each of their small or large rugs meets the highest quality standards.
Shop Linie Design.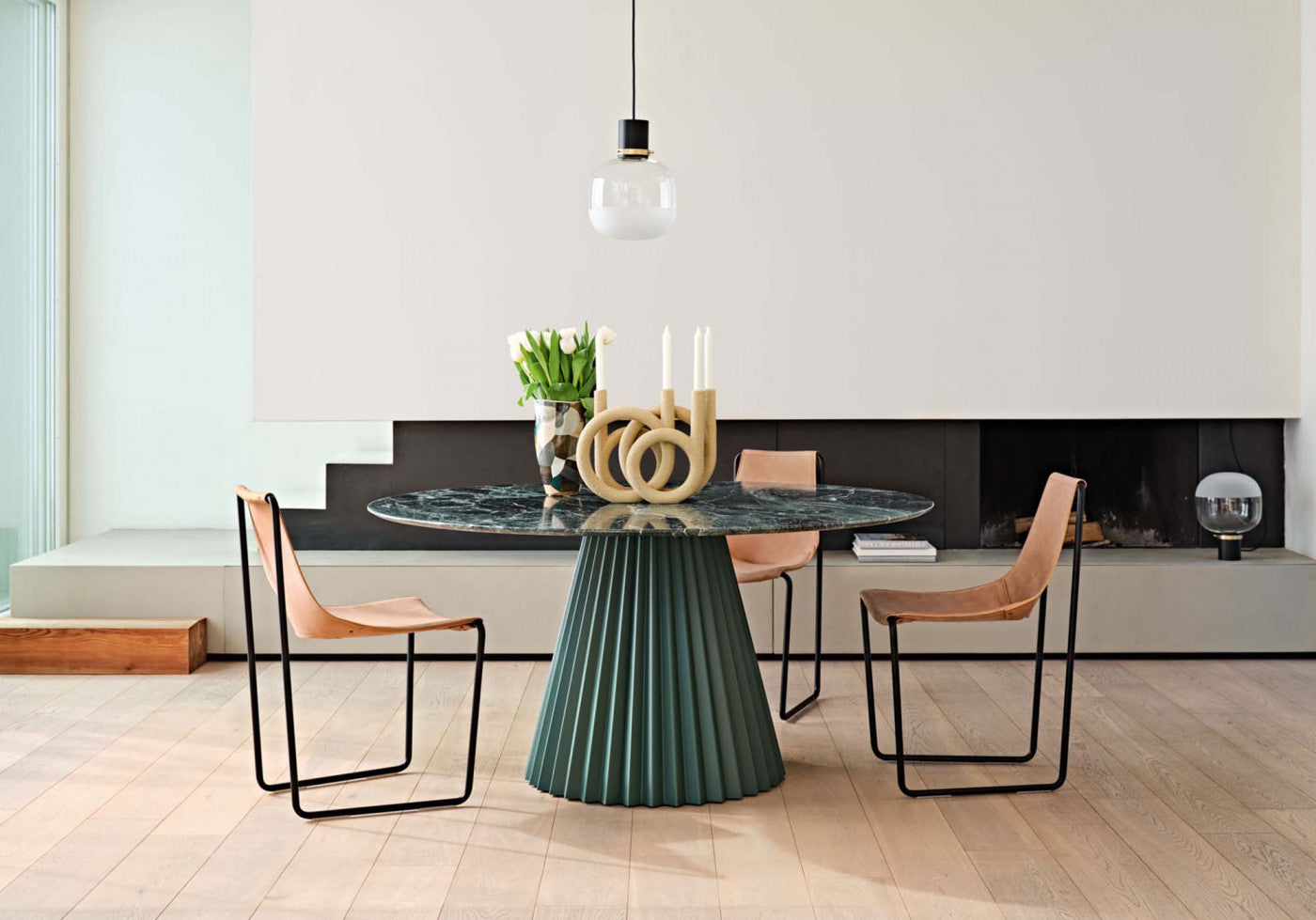 The best Round dining table for 6 or more
Move beyond the usual dining table stereotype. Visually stunning and incredibly functional the large round dining table for 6 or more allows for easy conversation and stands out for its noticeable ...
Read more