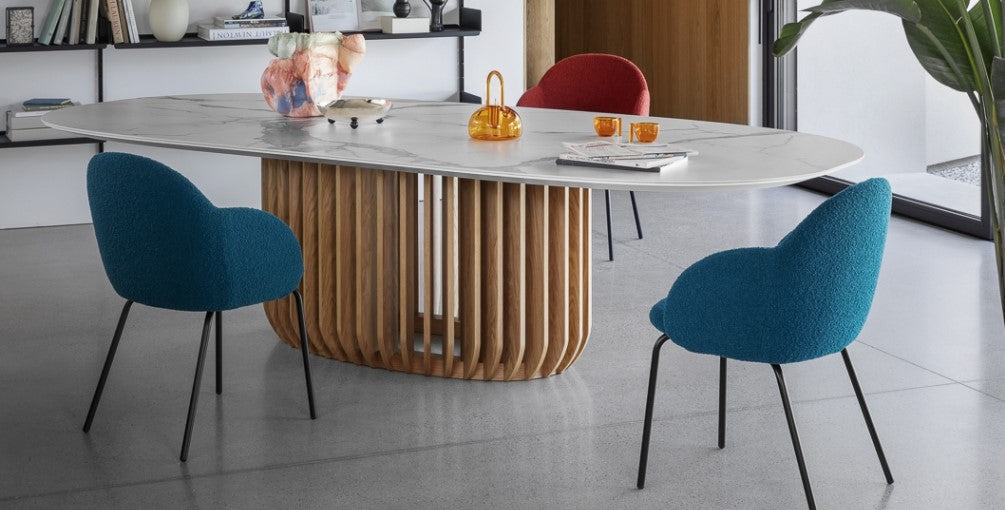 All About the Miniforms Juice Table - A Sculptural Statement Piece
Bring elegance to the everyday with the Miniforms Juice Table


A Fusion of Style and Functionality
It's the perfect blend of form and function for a chic dining space. The Miniforms Juice Table is a stunning piece of furniture that exudes a sense of calm and balance. The base of the table features long wooden legs that are connected to a ring, creating a circular design that is reminiscent of a juicer. This base structure is made from wood and supports a top that is available in either wood or ceramic.
Whether you choose the round or rectangular version of the table, the Miniforms Juice Table is a beautiful addition to any dining space. The top is offered in a range of solid wood finishes or a porcelain ceramic in multiple variations, allowing you to choose the option that best fits your style and décor. The combination of the wooden base and tabletop creates a sense of balance between filled and empty spaces, resulting in a table that has the perfect contrast.
Sustainable Design for a Greener Future
Miniforms is dedicated to sustainable practices, and the Juice Table reflects this commitment. The table's wooden base is crafted from responsibly sourced timber, ensuring its environmental impact is minimized. The ceramic top, renowned for its durability and scratch-resistant surface, is easy to clean and maintain, ensuring the table's longevity and reducing the need for frequent replacements.
Tips for Choosing the Perfect Miniforms Juice Table
Consider the size of your dining space: The round Juice Table is ideal for smaller spaces, while the rectangular version accommodates larger dining areas.
Choose a finish that complements your décor: The table's top is available in a variety of wood finishes and ceramic colors, allowing you to seamlessly blend it with your existing décor.

Prioritize comfort and ergonomics: Ensure the table's height is comfortable for your dining chairs and that the size of the tabletop accommodates your dining needs.
Elevating Your Dining Experience with Exquisite Style
To fully embrace the elegance of your Miniforms Juice Table, consider these refined styling suggestions:
Culinary Canvas: A Centerpiece That Captivates
Embrace the artistic spirit of the Juice Table with a centerpiece that reflects your personal style and culinary flair. A sculptural arrangement of fresh, vibrant flowers or a gleaming silver bowl overflowing with seasonal fruits will add a touch of sophistication and allure.
Ambient Glow: Candlelight That Enchants
Infuse your dining space with an enchanting ambiance by incorporating candlelight. Arrange a cluster of slender candlesticks in varying heights along the table's center, or opt for elegant pillar candles placed in stylish candleholders. The soft, flickering flames will create a warm and inviting atmosphere that sets the stage for an unforgettable dining experience.
Floral Symphony: A Touch of Nature's Beauty
Incorporate the natural beauty of flowers to accentuate the table's organic form. Place delicate floral arrangements in bud vases or small bowls, dotting them along the table's length. Choose flowers that complement the table's finish, such as delicate white orchids for a ceramic top or vibrant sunflowers for a wooden top.
Textural Delight: Placemats That Impress
Add a touch of texture and visual interest with stylish placemats. Choose placemats crafted from luxurious materials like silk or velvet, or opt for handwoven designs that showcase intricate craftsmanship. The added layer of texture will elevate the table's overall aesthetic and provide a protective barrier for the tabletop.
Culinary Storytelling: Serving Pieces That Add Panache
Elevate your dining experience with elegant serving pieces that complement the table's minimalist design. Opt for sleek, modern cutlery in polished silver or gold, and incorporate serving dishes in contrasting materials, such as porcelain or glass. The interplay of textures and materials will add visual interest and enhance the overall presentation of your culinary creations.
The Designers: E-ggs
The Miniforms Juice Table is a product of the creative minds of the designers at E-ggs. With a transversal approach to design that ranges from product design, interior design and architecture, the team at E-ggs is known for their ability to create unique and timeless designs.
Before starting their collaboration, the architects and designers at E-ggs had gained professional experience in different areas of design. This diverse background gave them a unique perspective when approaching the design of the Juice Table. For them, every project has its own unique rhythm, but their goal is always to design simply, intuitive and timeless products.
The team at E-ggs began the design process of the Juice Table with extensive research and conceptualization. They explored different shapes, sizes and styles, and were inspired by the simple yet elegant design of a juicer which led to the creation of the table's unique base design, featuring long wooden legs connected to a circular ring. They also considered the ergonomics of the table, such as the height of the table, the distance between the legs, and the size of the tabletop, all while keeping in mind the goal of creating a simply, intuitive and timeless piece.
During the prototyping phase, the team at E-ggs worked closely with the manufacturing team at Miniforms to bring their design to life. They were determined to ensure that the final product met their high standards of design and quality, and that it was consistent with the original design concept. The end result is the Miniforms Juice Table, a piece of furniture that exudes simplicity, elegance and timelessness, and it is a testament to the team at E-ggs and their unique approach to design.
Miniforms: A Timeless Story of Italian Artistry and Style
With a legacy spanning over 40 years, Miniforms is a renowned Italian design firm known for its elegant and expressive furniture. Located in the heart of Italy's furniture district, the company's guiding principles are lightness and expressivity. Every piece of furniture crafted by Miniforms is a testament to the company's unwavering dedication to craftsmanship and attention to detail. From contemporary to classic, Miniforms' furniture collection is a perfect blend of artistry, functionality, and beauty. With innovative designs and high-quality materials, Miniforms furniture has the power to captivate, mesmerize and leave a lasting impression on any onlooker.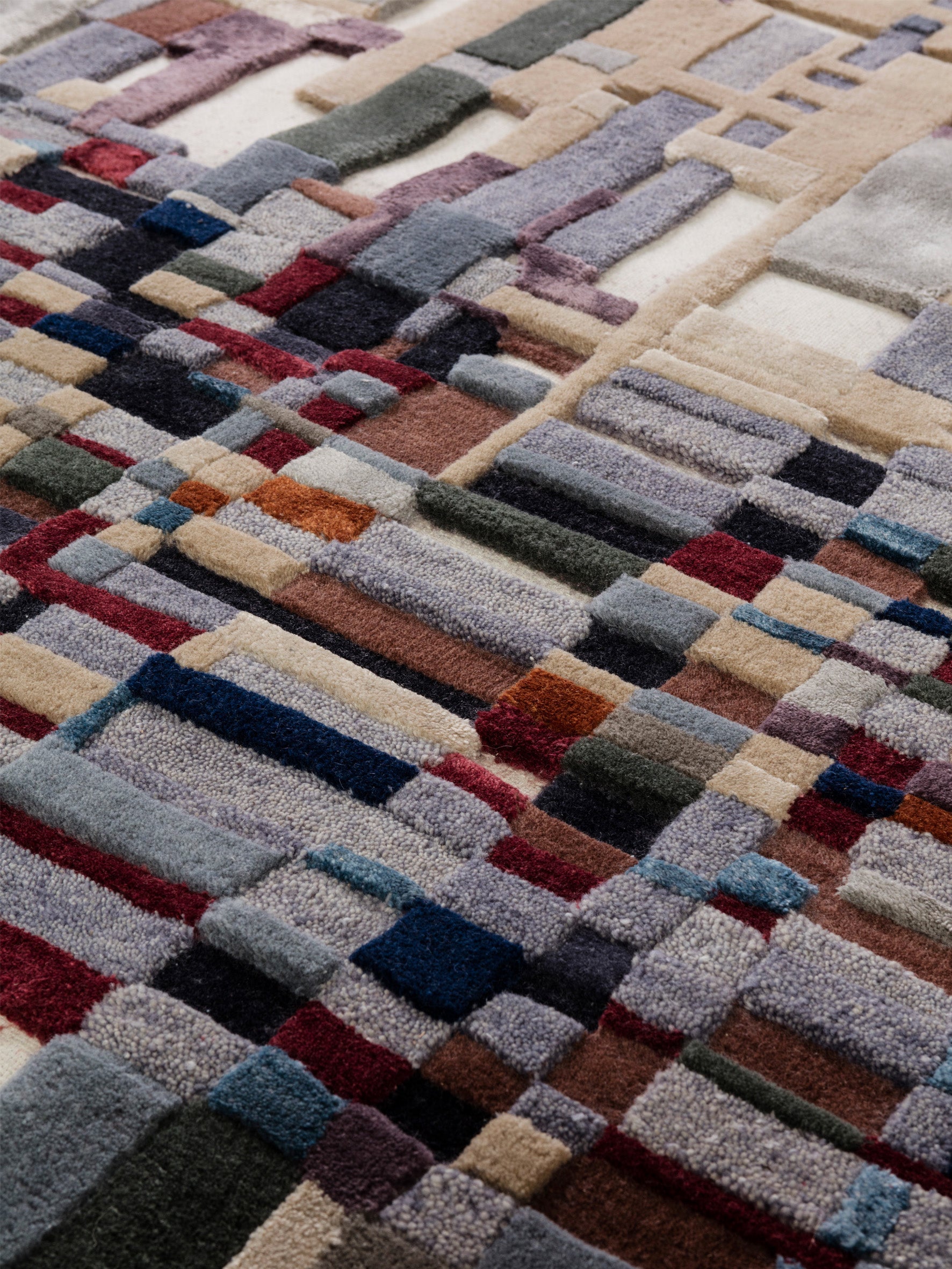 Nature-inspired designs offer an aesthetic richness that is hard to match. Using fibers, textures, and colors, Volver creatively designs rugs to imitate natural textures and landscapes, incorporati...
Read more