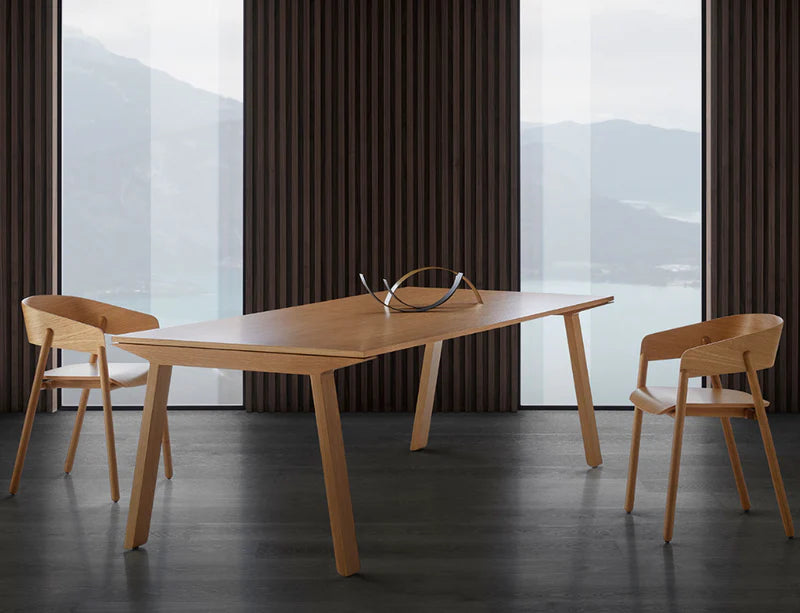 Walnut Dining Chairs for a Classic Dining Experience
The dining room is an area where we gather to share meals, stories, and laughter. It is where we can make lasting memories and strengthen our connections.
When it comes to creating the perfect dining room experience, dining chairs are an important element that can always stand out. Apart from providing essential seating, they play the role of setting the tone and style of your space. Walnut dining chairs are one such example. These chairs have been revered for generations as the pinnacles of style and quality craftsmanship.
Their rich hue, organic shapes, and impeccable construction make them standout pieces that infuse warmth into modern dining spaces. Beyond aesthetics, they provide versatility to suit personal tastes. That's why, for this blog post, we'll be delving into the classic experience of walnut dining chairs.
The Timeless Allure of Walnut Dining Chairs
Walnut dining chairs are associated with the mid-century modern style, having graced iconic homes and restaurants since the 1950s. Their minimalist silhouettes and elegance made them staples in spaces designed by trailblazers, such as Charles and Ray Eames. Until today, these chairs evoke an organic and casual sophistication.
In 2019, for instance, more than 480,000 people were employed in the US furniture industry. This being a testament to the enduring popularity of fine wood furnishings.
Although trends fade with time, walnut dining chairs have remained the go-to choice for elegant and inviting dining areas. Their rich, reddish-brown hue adds a touch of understated drama and textural interest to casual, as well as formal settings.
Apart from their aesthetic appeal, walnut dining chairs also provide versatility in function. From compact chairs suited for small dining nooks to the sprawling lounge chairs that invite long conversations.
There's no doubt that walnut's strength and malleability lends itself to furniture pieces that are designed for comfort and utility. Their fine handiwork ensures longevity. In fact, walnut dining chairs that were made half a century ago are still treasured pieces today.
Diverse Designs and Styles
While the mid-century modern style may have propelled walnut dining chairs into the limelight, today they come in a diverse spectrum of styles. From ornately carved vintage replicas to starkly minimalist contemporary pieces.
Walnut wood has proved to be a versatile material that can keep pace with the changing trends in interior design. Its smooth texture, varying grain patterns, and rich color palette make it the perfect blank canvas for shaping simple and dramatic furniture silhouettes.
Modern furniture designers also push the boundaries of walnut dining chairs. They have been blending them with other materials, such as fabric, leather, metal, and stone.
Sharing a meal with loved ones is important. Walnut dining chairs can help you do that in style, as they are durable and come in an array of stylish designs. The rich walnut finish also brings an inviting touch into your eating space. From a modern abode to a classic cottage, new dining chairs bring a whole new look into your dining room.
The plush comfort has increased the popularity of upholstered walnut chairs. The incorporation of metal and stone, for instance, adds sculptural qualities and a visual contrast. This incorporation expands the styling possibilities of a material long prized for its traditional warmth and simplicity. 
Iconic Walnut Dining Chair Designs
For many years, legendary furniture designers have created seminal walnut dining chairs. These pieces of furniture embody their artistic vision, and exemplify their mastery over wood.  Let's talk about some of their most iconic handiwork below:
Charles and Ray Eames are icons of mid-century furniture designs. Their molded plywood DCW (Dining Chair Wood) exemplifies their emphasis on forward-thinking technology and practicality. Lightweight yet sturdy, the sculpted walnut shell cradles the sitter in comfort.
For his Alpha Chair, British designer Jonas Trampedach drew his inspiration from a hand-drawn sketch. This resulted in a fluid sensuous form that looks as though it was shaped organically from a single piece of

walnut wood

. The ergonomic curves snuggly envelop the sitter.
Bosnian-born designer, Salih Teskeredžić's Latus Chair received the Interior Innovation Award in 2015 for its inventive shape and construction. The two ribbed side panels made from solid walnut or oak intersect to create a chair that expresses the natural strength and sinuous beauty of wood.
The above pieces of furniture are examples of some of the standout walnut chairs that you'll find at market. The pieces are inspired by iconic designs and are crafted with attention to detail to provide both style and comfort. 
The Benefits of Choosing Walnut Dining Chairs
Walnut wood furniture is made from the hardwood of the walnut tree that has a strong and dark color. Walnut furniture has been used for decades, thanks to their different designs that can be found in the market in places. This furniture comes in any style because the grain patterns add texture and warmth to any space.
Thanks to their unique features, walnut wood is used to make bar stools, dining chairs, and other pieces with intricate designs. Walnut furniture is preferred by a lot of people, but what are the attributes that make it a stellar choice for dining chairs?
Durability
Walnut wood is the best choice if you're looking for a piece of furniture that can stand the test of time. Its durability is due to its density. Its tightly grained structure makes it resistant to scratches, scrapes, and dents from daily wear and tear. The legs and frame of well-constructed walnut dining chairs can last for decades.
The requirement for minimal maintenance also reduces the need for constant repairs or replacement. 
Easy Maintenance
Walnut dining chairs require very little effort in terms of cleaning compared to other types of dining chairs. You only need to wipe off the dust once in a while with a soapy solution, and in the case of a spill.
Other options of furniture, especially those with lighter shades may require you to be extra cautious, as they are much more prone to staining from chemicals. Since walnut woods aren't prone to bowing like other woods, even light sanding is enough to take care of minor surface imperfections.
Aesthetic Appeal
Walnut dining chairs instantly infuse spaces with warmth and grandeur. That's because of the rich chocolate and caramel tones that create an inviting and stylish backdrop for dining rooms.
As walnut wood furniture ages, they develop darker hues and a beautiful patina that adds character. The smooth texture and flowing grain makes them ideal for dining chairs with refined and seamless surfaces.       
Eco-Friendly
Walnut wood is sourced from abundant hardy trees that are easily replenished. Unlike other luxury woods, walnut is responsibly harvested and manufactured through methods that are less harmful to the environment. Its durable construction and longevity also produces less waste over time. 
Customization
Walnut wood's versatility enables it to be customized according to your needs. It can be stained, painted, and modified to match your space. Whether you desire it to have a light whitewashed look or dramatic black finish, walnut wood adapts beautifully. 
Complementary Furniture for Walnut Dining Chairs
The right accompaniments can enhance the beauty of any walnut dining chair, and cause your dining space to look exactly as you desired. Here are some striking pairings:
Dining Tables: You can match your walnut dining chairs with a dining table in the same stain or wood type. The uniform palette creates an elegant, pulled-together look. For contrast, pair walnut chairs with a glass, marble, or metal table. The texture and color variations can also establish an appealing visual interest.
Sideboards: You can anchor your space with a polished wood or lacquered sideboard that complements the chairs' hue. Then position above a stylish rug to define the dining area. For ornate chairs, minimalist sideboards balance the opulence.
Accent Pieces: Integrate walnut accents, such as live-edge console tables, wall panels, or display cabinets to strengthen your home's theme. Metallic accents, like brass or black metal lighting and hardware usually pop against walnut.
Upholstery: You may want to soften the look of your walnut furniture or add a color splash. In such a case, choose plush fabric, leather, or velvet upholstery to put on the chairs. Materials, such as bouclé, linen, and velvet in warm neutrals, like cream or chocolate brown, complement walnut's organic nature very well. Vivid hues create an eclectic and lively dining space. 
Conclusion
With the information provided here, we believe that you can feel inspired to find the perfect dining chairs for your space. If you prefer the comfort and timeless beauty of walnut dining chairs, take your time and explore their options, then select dining chairs that complement your style, as well as create a welcoming atmosphere. 
Frequently Asked Questions
Why are walnut wood dining chairs more expensive than other types?
That can be attributed to the unique grain patterns, durability, and intricate craftsmanship showcased in quality walnut furniture. Unlike mass-produced pieces, artisanal walnut chairs involve meticulous woodworking techniques that require mastery and time. This results in pieces that last for decades and appreciate in value over time.
Additionally, walnuts produce quality dining chairs that don't require frequent repairs and have higher intrinsic value. The density of this wood also enables it to be carved into more sculptural and complex forms that demand expertise.
How do I care for and maintain my walnut dining chairs?
Dust frequently with a soft lint-free cloth to avoid the build-up of crumbs and dirt in the crevices.
Promptly clean spills with a damp cloth and a mild cleaner to prevent staining.
Polish occasionally with walnut oil or beeswax to nourish the wood and restore its warm luster.
Place felt floor protectors under chair legs to protect against scratching the floors.
Avoid placing your dining chairs in direct sunlight or high moisture areas to prevent discoloration or warping.
With periodic cleaning and polishing, your chairs should retain their rich patina for decades of use. Protect them from harsh elements, to maintain their structural integrity and aesthetics.
Can walnut dining chairs be customized or reupholstered?
Absolutely! One of the many reasons why consumers rate quality as the top factor when purchasing furniture is the ability to customize the furniture. Walnut dining chairs offer many possibilities in terms of customization. You can, for instance:
Request a custom size or a design tailored to your space and needs.
Replace seat cushions or backs when worn out or to update the look.
Add unique decorative accents, like nail-head trim, carvings, or inlaid stone.
Stain or paint chairs to perfectly match the color scheme of your dining space.
Upholster seat cushions in preferred fabrics, such as leather, velvet, or patterned textiles.