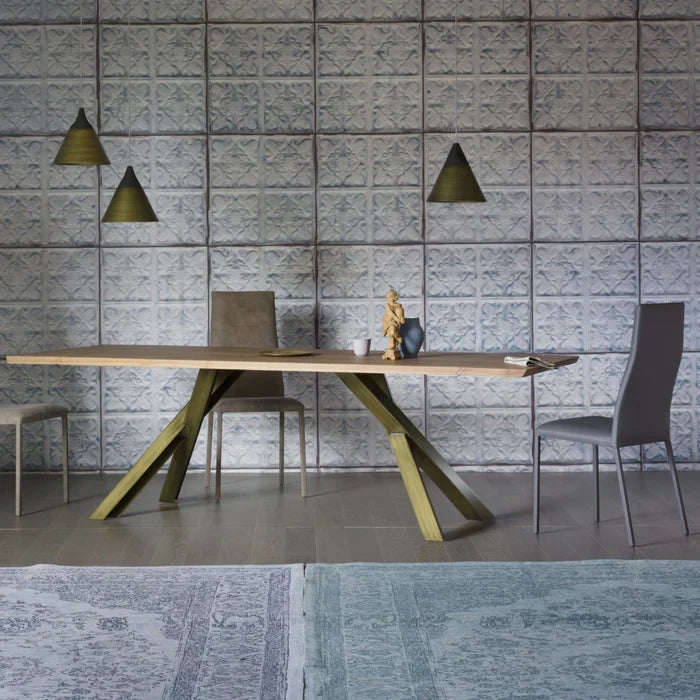 The Art of Pairing Dining Chairs with Different Table Styles
When it comes to dining room furniture, we believe that dining chairs and tables should be sisters, not twins. There are three approaches when it comes to matching these pieces of furniture. Matching the chairs, matching the side chairs with different head chairs, and an eclectic mishmash where no two chairs are the same.
Though overlooked, furniture plays an important role in creating an inviting and stylish dining space. That's why you should reconsider the outdated practice of uniformly matching dining sets. This article seeks to explore the art of expertly pairing dining chairs with different table styles for a cohesive, contemporary dining room that reflects your personal taste.
The Misconception of Matching Furniture
Interior design is a very fascinating practice. It involves creative thinking, problem-solving skills, and the ability to understand how various factors work together to create a harmonic space.
When it comes to pairing dining furniture, the standard practice has always been to invest in a complete matching dining set. This practice was considered elegant and sophisticated. As trends evolve, however, this uniform look has become outdated. 
Today, designers encourage mixing furniture pieces to create a collected and curated aesthetic. The homogeneous dining room featuring a table and identical chairs on all sides resembles a restaurant or cafeteria. Instead, the new approach is to pick chairs that coordinate, but don't necessarily match. This creates visual interest and showcases your personal style. 
The "Pretty Chair" Test 
When selecting dining chairs, designer Nate Berkus recommends taking the "pretty chair" test. This approach is about choosing aesthetically pleasing chairs even when isolated from the table. The lines, shape, color, and style should stand alone as a gorgeous piece of furniture in its own right. Chairs that pass this test often become focal points due to their unique designs. 
The key is to pick chairs that have distinctive styles that still work cohesively together around the table. Contrasting designs, shapes, colors, and materials create an eclectic, collected look. It's important, however, that you stick to an overall theme or color palette, so that the mix doesn't feel haphazard or mismatched. 
Breaking the Monotony by Mixing and Matching 
Almost anything goes in this era of contemporary design. A blend of furniture pieces helps to bring a unique and fresh look into the dining room. According to designers, you no longer have to worry about getting coffee tables that match with your dining chairs, because mix and match is here to stay.
You must, however, note that it takes an eye for design to successfully mix different chair styles around a dining table, but the effect is visually refreshing. Having the same chairs lined up on each side creates monotony. Instead, find ways of breaking up the monotony. Here are ideas on what you can do:
You can mix two complementary chair styles, like sleek modern chairs on one side, and have classic Windsor chairs on the other.
Using unique chairs at the heads or ends of the table, while keeping the sides cohesive.
Varying colors and materials, like pairing white slipper chairs with black upholstered side chairs.
Group the dining chairs by design, by having tufted chairs on one side and scoop chairs on the other. 
The dining table should also coordinate instead of matching. An industrial metal base table can work with both mid-century modern chairs and contemporary clear

acrylic chairs

. This can result in an unexpected blended look.
Designer Tips for a Coordinated Dining Room
When designing a coordinated dining space, it's important that you focus on the atmosphere that you'd like to create. Do you, for instance, envision a relaxed family dining area or a refined space for entertaining? Think about the overall décor of the adjourning rooms. How does the dining furniture complement the existing elements, like color schemes, materials, and style?
Here are a few tips to help you achieve a cohesive look:
1. Determine Functionality
The first step to styling your dining room is deciding how your space should function. Despite being primarily reserved for mealtimes, a dining room can also serve as a secondary work space. Additionally, it can be used as a homework hub, a game room, or a storage spot for kitchen overflow.
Depending on your style, think about any other purpose that the dining room may serve. Then consider the level of formality that you'd like to have. This can guide your choice of dining chairs and tables, including other pieces of furniture in the room. 
2. Consider Window Coverings 
You need to think about incorporating window coverings that reflect your personal style to achieve a coordinated look. You can choose different types of window statements depending on the formality of your space.
If you have a more reserved style, you may consider curtains as a window statement. If your dining area is casual or closely connected to the kitchen, blinds or shades may be ideal for a coordinated dining room.
Apart from enhancing the overall aesthetic, including some window adornment will offer privacy and an inviting atmosphere. 
3. Incorporate Wall Décor 
The manner in which you style a large wall in your dining room has an impact on the overall appearance. So, if you have a large wall, go for bold artwork, vibrant colors, and traditional textures. This can help to create an instant facelift. Alternatively, you can opt for large mirrors to create a spacious feel.
If you have limited wall space, it's advisable that you make that blank expanse the focal point. For those with multiple walls in the dining area, choose the one that catches your eye when you enter the room. 
4. Add a Statement Rug 
Being the place where we host friends and relatives, the dining room is the perfect canvas for a statement rug.
A statement rug can set the tone of the dining room, or act as the unifying factor to dinnerware and your table décor.
During holiday celebrations, you may want to swap out a standard throw rug to give you a seasonally fitting motif. This does not mean that you buy a rug with snowflakes all over. Instead, maybe consider something that has a hint of gold to up your dining room's cheer factor. 
5. Style the Table
For an ideal table setup to ensure proper coordination in the dining room, you must keep your adornments practical and versatile. Thus, you need to blend functional and aesthetic elements, such as bowls of fresh fruit, candlesticks, and colorful glassware for creativity.
Freshen up the dining area with a floral centerpiece and bud vases. You can also experiment with heights, styles, shapes, and colors. Alternatively, you can go for a cohesive arrangement with similarly-colored vases. 
6. Install a Statement Chandelier
In an open concept space, it's crucial that you find ways of defining every room without physical walls. Statement lighting is the best way of delineating a dining room.
You can, for instance, try a sculptural piece with the perfect mix of light greens, blues, and whites. If you prefer a dramatic and bold chandelier, tone down on the furnishings to ensure the dining room doesn't feel hectic. 
7. Refreshing Your Existing Dining Set  
Small changes can make a big visual impact if you have a matching dining set that you'd like to modernize.  Try switching out a couple of the chairs for a different style that coordinates with your existing theme. You can, for example, replace two solid wood chairs with upholstered slipper chairs in a patterned fabric. 
You can also refresh chairs by re-covering the seats in a modern print or texture. Wood chairs can also be updated with a new stain or paint color. For extra flair, add unique chairs at the heads of a rectangular table, like woven rattan chairs to contrast an existing set. Modifying part of your set prevents an outright matchy-matchy look. 
Conclusion
If you truly want to enjoy your dining room and create memories with loved ones, it's time you re-evaluated some ideas concerning your dining furniture and the overall look. The place where you have a nice meal should be more than a beautiful table. 
Ensure that the room is a well-designed and inspiring environment with well paired chairs and different table styles.
Frequently Asked Questions
Is it wrong to buy a matching dining room set?
While matching sets were once the standard, design trends now lean toward a cohesive coordinated look instead of uniformly matching pieces. An eclectic mix of thoughtfully selected chairs and a complementary table creates a more stylish, modern dining space. However, if you prefer the uniform look, it's still a classic choice.  
How can I make my existing set feel fresh without buying new furniture?
Try switching out a few chair styles or adding unique chairs at the heads of the table. You can also update the existing chairs with new upholstery, paint colors, or stains. Using contrasting chair pads or cushions is another easy fix. 
How do I choose chairs and a table that work together but don't actually match? 
Focus on coordinating the overall aesthetic in terms of color palette, materials, and style. You can combine warm toned woods with woven or rattan chairs. Metallic bases work with both mid-century and modern chair styles. Avoid matching woods, colors, or patterns, and try complementary, not identical. 
Matching dining sets is no longer a trend. To create a fashion-forward dining space, mix complementary chair and table styles unified by a color, material, or design aesthetic. With an artistic eye, and a willingness to combine eras and styles, you can design a stunning dining area that reflects your personal taste.