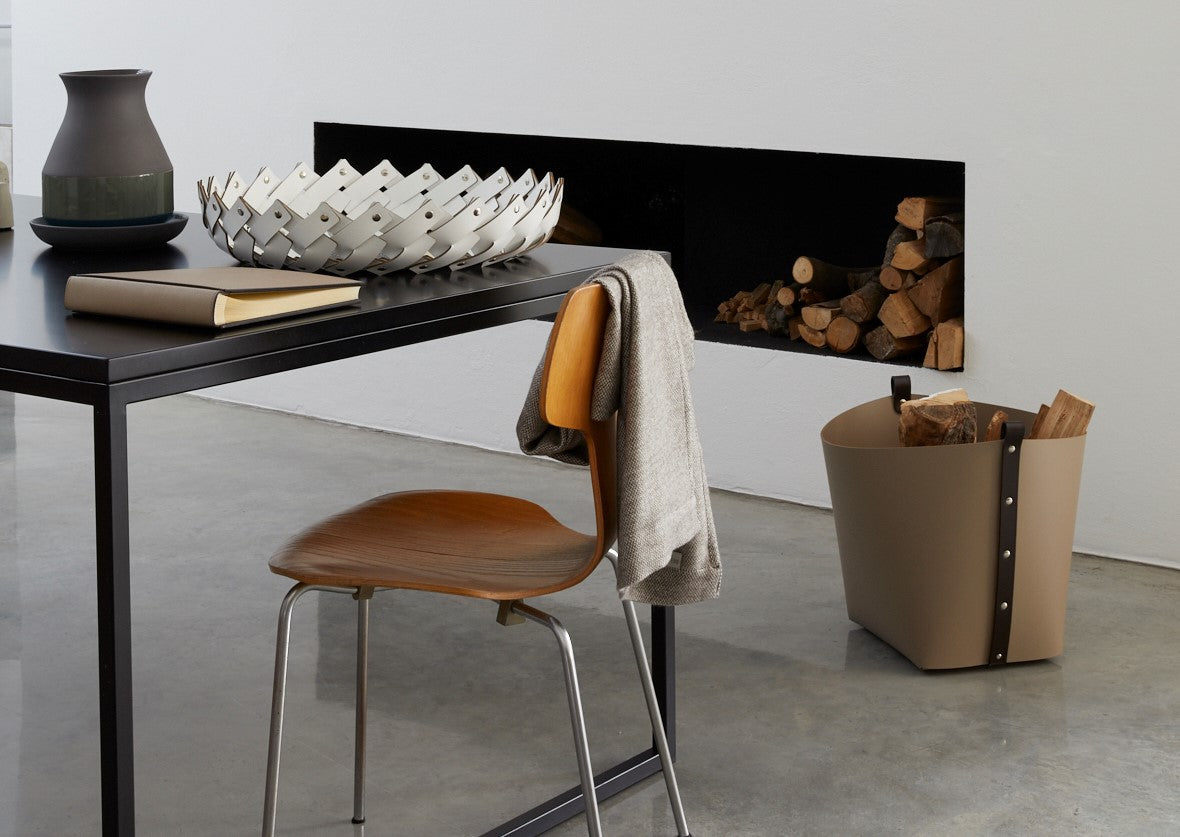 Italian Decor Meets Functionality: The Art of Leather Organization
Bringing Italy to Your Home: The Pinetti Leather Collection
Charming Leather Textures
Imagine a space where you can put everything in it's place. These baskets, boxes and trays put rationality and functionality above all else. Explore the best of this handmade leather collection and experience the authenticity and richness of the leather texture.
The collection below features luxurious designs that are enjoyed in the world of prestigious residences, yachts, aircrafts, five-star hotels. Each of these features a bold interplay of leather textures and finishes.. The large spectrum of colors allows everyone to find their favorite. 
Almeria: Leather Basket Weave
This sophisticated piece is extremely versatile and can be used in a living room as a magazine display or as a storing place for logs by the fireplace. Its large size makes it ideal as a container of various objects, such as towels in a bathroom. Part of the Almeria series, this leather basket weave is made in eco-friendly leather that can be easily cleaned and can be used also outdoors, on a patio or on a boat. Its unique texture of hand-woven diagonal strips will make a statement in every place this piece is used.
Ovo: Magazine Basket
Fashioned of resistant recycled leather, this Ovo basket boasts an unstructured silhouette with flared sides supported by a sturdy rectangular base that can hold a large number of items.
Used by the fireplace as wood holder, thanks to its handle, Ovo can be also the ideal solution as a magazine basket, or to hold shoes, towels or linens.
Trinket: Leather Tray
Everyone needs a place to stash their small accessories. The Trinket tray is the answer.
Made entirely of natural leather, its flawless finishing touches make this a decorative object that is refined highly practical as well. With its flat bottom and raised edges, the uses for the Trinket leather tray are endless. Our rectangular and square trinket trays are available in 3 different sizes.
Atena: A Basket with a lid
A pure design with a special magnetic closing.
The family of three Atena boxes made with eco-friendly and washable regenerated leather is perfect for a modern closet. Available in a natural color palette.
Avio: Leather Textured Box
A staple accessory for any exquisite closet. Avio is our closet box with a strong and light structure completely covered outside in premium calfskin texture.
Available in two different sizes the boxes come in a wide range of colors and different leather textures.
Hook: Laundry Basket Holder
An attractive contrast between leather and cotton fabric.
Our Hook basket is hand woven, made with eco-friendly, washable, and resistant material suitable also for outdoor use. The inside fabric in linen and cotton is available in taupe and cream color is removable and washable. These two sizes are a precious addition to any bathroom as a laundry basket holder.
Origami: Leather Texture Box
Our Origami leather box is an endlessly useful complement for a master closet. Two sizes ideal for organizing your interior that can be easily folded to help you save a plenty of space.
Made with eco-friendly, washable and resistant material, Origami is the perfect addition to upgrade your wardrobe.
Pinetti
A leather box, a leather tray, magazine basket or a laundry basket holder, each design is ingenious, crafted with meticulous attention to detail.
The authentic leather texture has become a hallmark of this brand.
Pinetti combines artisanal craftsmanship with technical skill to create a handsome collection of Italian-made leather accessories, boxes and trays.
For 35 years the Pinetti family brought their products all over the world becoming an exclusive partner for interior design studios, shipyards, boutique hotels and fashion brands. 
Their innovation and classic modern style have earned them multiple international awards.