Article: Modern white living room furniture | 10 Inspiring and Swoon Worthy Designs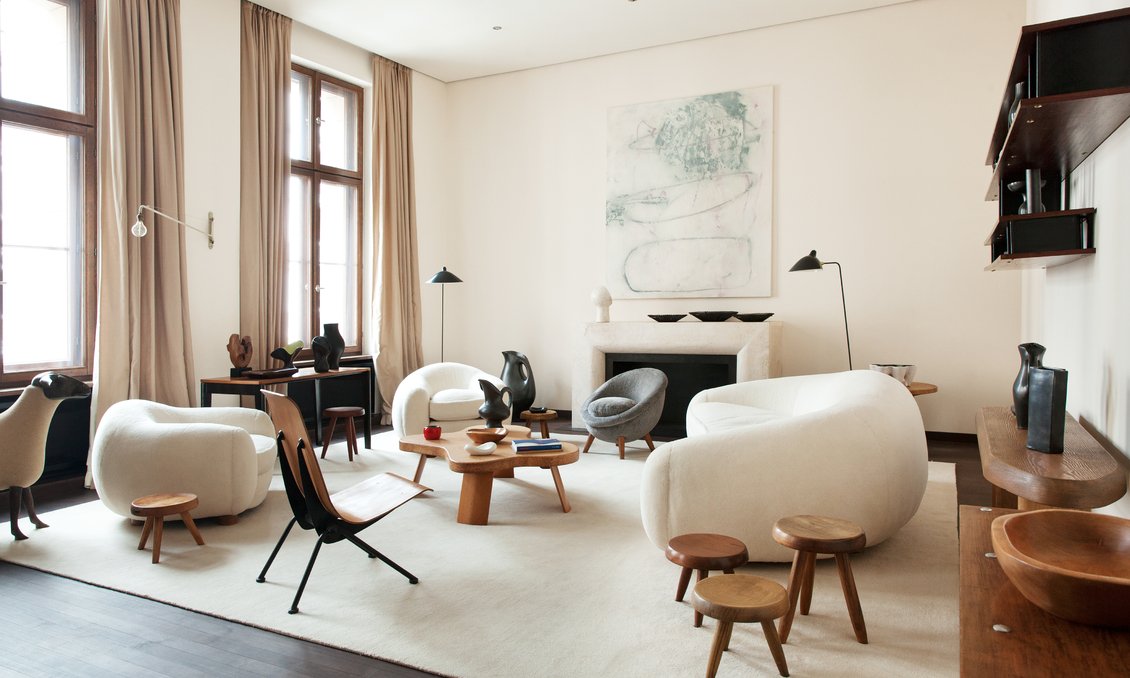 Modern white living room furniture | 10 Inspiring and Swoon Worthy Designs
TAKE A PEEK INSIDE THESE 10 MODERN LIVING ROOMS AND SEE WHAT INSPIRED THEIR DESIGN
There's nothing quite like it - that perfect living room. 
It's an oasis of tranquillity, the ideal spot for entertaining, and of course, your family's favorite room. In the search to craft the living room of their dreams many opt to start with white walls. 
And that's not one bit surprising.
White walls are an excellent choice because they give birth to a universe of serenity, calmness, and inspiration. White signifies purity and perfection but also expresses leisure and opportunity.
But that's not all.
White walls can magically transform a dark room and make small areas appear larger. It'll wash any room in a crisp, clean aesthetic and make tight spaces feel breezy and airy. 
Like a blank canvas, white offers so many options, and you'll be inspired by the living rooms that we've highlighted below. Using white as a backdrop opens the door to a variety of styles.
How do I decorate a living room with white walls?
Even though white offers an expansive number of options, decorating it can be harder than you may think because you need to add depth, texture, and layering through the styling. 
You may be wondering:
What shade of white is best for the walls?

What furniture can I use to anchor a white living room?

How do I style it to make it feel cozy?
Your lifestyle, your preferences, and your sensibilities will determine how you choose to decorate any room in your house. So whether you want to create a living room that's elevated and luxurious, a friendly spot for entertaining or a place to relax and connect to nature, you'll want to create that unspoken narrative with the furnishings you choose to use.
As always, the inspiration for the room is the people who are living in the home and should be based on the moments you imagine having there. 
 Here we pull back the curtain on 10 modern white living rooms, as their designers reveal how they each reinterpreted the room as an expression of how the owners choose to live. 
Together they prove that there are many inspiring ways to achieve the look, and create the living room of your dreams.
Joseph Dirand's French Touch
Joseph Dirand is one of the most coveted architects in Paris. But his living room is particularly impressive because it expertly reinvents traditional French furnishings in a contemporary way. 
Set against a backdrop of white ornate architecture with splendid views of Paris, this room seems to bathe in a magical aura and "art de vivre" charm. Dirand designed the organically-shaped egg-stone coffee table as a focal point in the room. It is surrounded by mid-century modern classics like the Pierre Jeanneret sofa and chairs that are made of teak and hide. The furnishings are simple with tout lines to create a sophisticated and understated space.
Materials such as natural stone, marble and wood are used throughout, and collectors' items such as the wall art by Angel Alonso are part of the room's extensive art collection. 
Dirand delivers a certain quality of life by bringing his signature "French touch" to this serene living room, thereby making it more elevated and magical.
Photography by Adrien Dirand
Emanuel de Bayser's World of Art 
Art enthusiast Emmanuel de Bayser wanted his Berlin apartment to reflect his creative world.  And there's no doubt about it, this living room presents an impressive composition.
Tall windows bathe the room in natural light, and soft curves envelop the space in a cloudlike palette. A remarkable collection of furniture and ceramics decorate the living area, these are pieces that Emmanuel de Bayser has collected over the years.
De Bayser found poetic ways to play with contrast. He mixed hard surfaces with comfortable ones, like wooden chairs with white fabric ones, and paired fluid shapes with strong lines.
He also used warm materials like wood to live in contrast to cold materials like metal and ceramics. He placed them artfully, with repetition, around the room to create a delightful sense of rhythm.
In this room furniture doubles as art. The Lalanne sheep were bought from François-Xavier and the Meribel Wooden stools are by Cassina. The Polar Bear sofa, a classic from French designer Jean Royère exudes fullness and warmth. It is deliberately joined with the slimness of the Serge Mouille floor lamps.
This white living room tells the story of an artist who values and cherishes art. Each piece has character and its entire composition creates a wonderful sense of intrigue. This is an interior that truly inspires the artistic sensibilities.
Photography by Eve Campestrini 
Art Deco Style
This all-white living room was designed to be easy on the eye. Designers Solís Betancourt & Sherrill used glamorous details to greatly elevate the space. The result is a room marked with a seal of incomparable elegance. 
There is a sprinkling of Art Deco which creates an opulence that saturates the room. A custom-made velvet (by Romo) sofa and daybed boast of elegant platinum-leafed bases. Vintage chairs are covered in a rich Rubelli fabric. Travertine marble floor and walls, and a waxed venetian-plaster ceiling add a polished silvery gleam to the room.
Other exquisite favorites: a tree-shaped floor lamp, a classic crystal sconces in the form of exotic birds, two heirloom Chinese temple dogs that sit on the console and floor lamps by Rose Tarlow Melrose House. 
This white living room epitomizes a modern glamour that is truly sophisticated and serene.
Photography by Pieter Estersohn
Nature Inspired Minimalism
This white living room is part of a lake house that is situated at the end of a narrow farm road. It represents simplicity, harmony, and a connection to the outdoors. Owner Lindsay Pauly worked closely with Bruns architecture to create the vacation home of her dreams. 
Clean white walls and a restrained color palette interplay with an abundance of natural light that flows through its expansive windows. A light-colored sofa and rug from Restoration Hardware lay a soft and airy foundation. An Indio side table (from Pottery Barn) and Parchment Armchair (from OZdesignfurniture.com) are used to create balance by adding a sense of rusticity. Reclaimed timber ceiling panels and wide-plank oak floors enhance the natural-inspired aesthetic and look beautiful against the white backdrop.
This Wisconsin living room blends a white serenity with natural elements to create a room that feels peaceful by embracing nature.
Photography by Tricia Shay Photography
Light and Architecture
Parisian designer Guillaume Alan understands that color is an unnecessary element. And in this bespoke living room he proves that less truly is more.
Instead of color he uses a largely monochromatic color scheme which is evident in the brushed oak floors, natural marble, brushed ash wood and satin. 
Streams of daylight cast a gentle radiance across the space. Utilizing a slew of natural materials, he allows the glow to sweep over them and illuminate their texture, bathing the room in a hypnotic feeling of light.
In order to create a unique architectural element, vaults were drawn in the ceiling. The light further enhances the architecture and helps it achieve its true purpose by creating depth in its nooks and crevices.
An upholstered satin chaise and armchair are from Guillaume Alan's Satin collection. The three-meter-long marble coffee table is made of ash wood and has a brushed finish.
The homeowners desired a space that offered comfort combined with the sophistication of a hotel. This living room wins with impeccable proportions and a breathtaking precision that draws a real emotional response.
Photography by Matthew Donaldson
Modern Rustic Family Room
Rooted in a neutral palette and bathed in natural light, this open-space living room embraces a Mediterranean serenity and a family holiday spirit. It was designed by three suburban moms and best friends of Three Birds Renovations.
They set out to make this room to function as an entertaining space. Back-to-back large sofas (by Freedom Salsie Dalton) ensure that they would never run out of places for friends and family to sit and socialize. The walls and ceiling are painted in a clean shade of Dulux White On White, and light-colored floors by Woodcut Voss maintain the airy feel. To help characterize the farmhouse-inspired aesthetic, warm rustic elements were included, like a ceiling fan in white oak, a wooden coffee table (by Freedom Base Coffee Table) and a woven basket.
Expansive windows offer forest views that feel natural and laid-back and keep the space open and fluid.
In this living room the designers created a space that is light and airy, and warmed it up with natural touches to make it feel homey so that the end result is a perfect and welcoming family-entertaining space.
Scandinavian Minimalism and Comfort
Step inside this one-bedroom-apartment in Sweden. It reveals a Nordic-inspired living room that uses a soothing beige tone to establish simplicity and serenity. The designers at Grey Deco worked to shape the space into a living area that has the feel of a cozy reading nook. 
The room boasts a high ceiling and rich architectural details but is decorated with minimalist elements. The linen sofa has a relaxed, lived-in feel and is flanked by a simple floor lamp. A velvet coffee-colored chair and matching accent pillows keep the vibe calm, collected and grounded. The wooden floor is set in a classic herringbone pattern.
In order to create this oasis of tranquility, the designers conjured up a soothing palette of browns and creams, and found simple pieces to live inside this scheme.
This living area infuses a laid-back feel. It has a casual vibe that inspires comfort and calmness.

Photography by Jonas Berg
Mid Century Modern Classics
New York-based designer Alyssa Kapito delivers a space that is marked by classic elegance and quiet sophistication. In this Upper Eastside living room she builds a stunning interplay between its masculine and feminine elements.
The tall ceiling creates a sense of scale and a grand art piece has a statement-making impact. A masculine grandeur is displayed with a contemporary steel coffee table that Alyssa designed herself. The table is surrounded by a custom sofa and two chairs that bring a delicate feminine dignity. The sofa and chairs (by Roman Thomas) were done in silk (by Rogers and Goffigon) and upholstered in boucle wool (from Holland and Sherry). A sisal rug (from Stark Carpet) sweeps the entire room and lays a soft, natural foundation, and a chandelier made of plaster crowns the room in a light and airy way.
This white living room creates an interesting tension between its masculine and feminine details making the space feel both handsomely classic and beautifully serene.
A Modern Industrial Corner
The narrow layout of this Brooklyn apartment posed a challenge but the Jesse Parris-Lamb team succeeded in creating a space the owners had dreamed of; a spot to hang-out, entertain, and drink a peaceful morning coffee.
The living area couldn't fit a regular couch, and no daybed or settee was comfy enough, so the Jesse Parris-Lamb team created a built-in sofa along the front window built by Ben Erickson (of Erickson Aesthetics.)
A partition wall separates the entryway from the living area making it feel like a place of peaceful respite. The Estudio Persona Nido Chairs have leather upholstered wood seats and a unique silhouette. They sit opposite the white built-in sofa, blending seamlessly with the exposed brick wall and offer a warm, casual feel. Neutral shades are also added to the mix with a cork side table from Vitra and a three-legged stool from Hem.
In this corner the designers created a beautiful vignette that feels intimate but social.
Photography by Max Burkhalter
A Modern Spin by Nate Berkus and Jeremiah Brent
Nate Berkus and Jeremiah Brent designed this living room by taking inspiration from the California modernist movement. The designers intended to transform a Tudor house built in 1925 and make it appropriate for a modern Los Angeles family. 
Their goal was to lighten the formality of the space and embrace the Southern California sunshine while keeping the structure true to its roots.
Set against a backdrop of stately Tudor architecture they opted for modern and contemporary pieces to add a sprinkling of friendliness and warmth. A vintage travertine cocktail table and sheepskin-topped Italian stools make this room a livable luxury. Vintage Pierre Guariche armchairs dressed in a Rose Tarlow linen and a large Stilnovo sconce from 1954 offer a polished, tailored aesthetic. 
The designers selected a subdued palette of whites, off-whites and neutrals and grounded it with earthly elements like stone and ceramics to direct the flow.
This living room achieves a light and airy spirit, not only because of its soft color scheme and modern pieces but also because it expertly brings the outdoor elements in.
Photography by Trevor Tondro