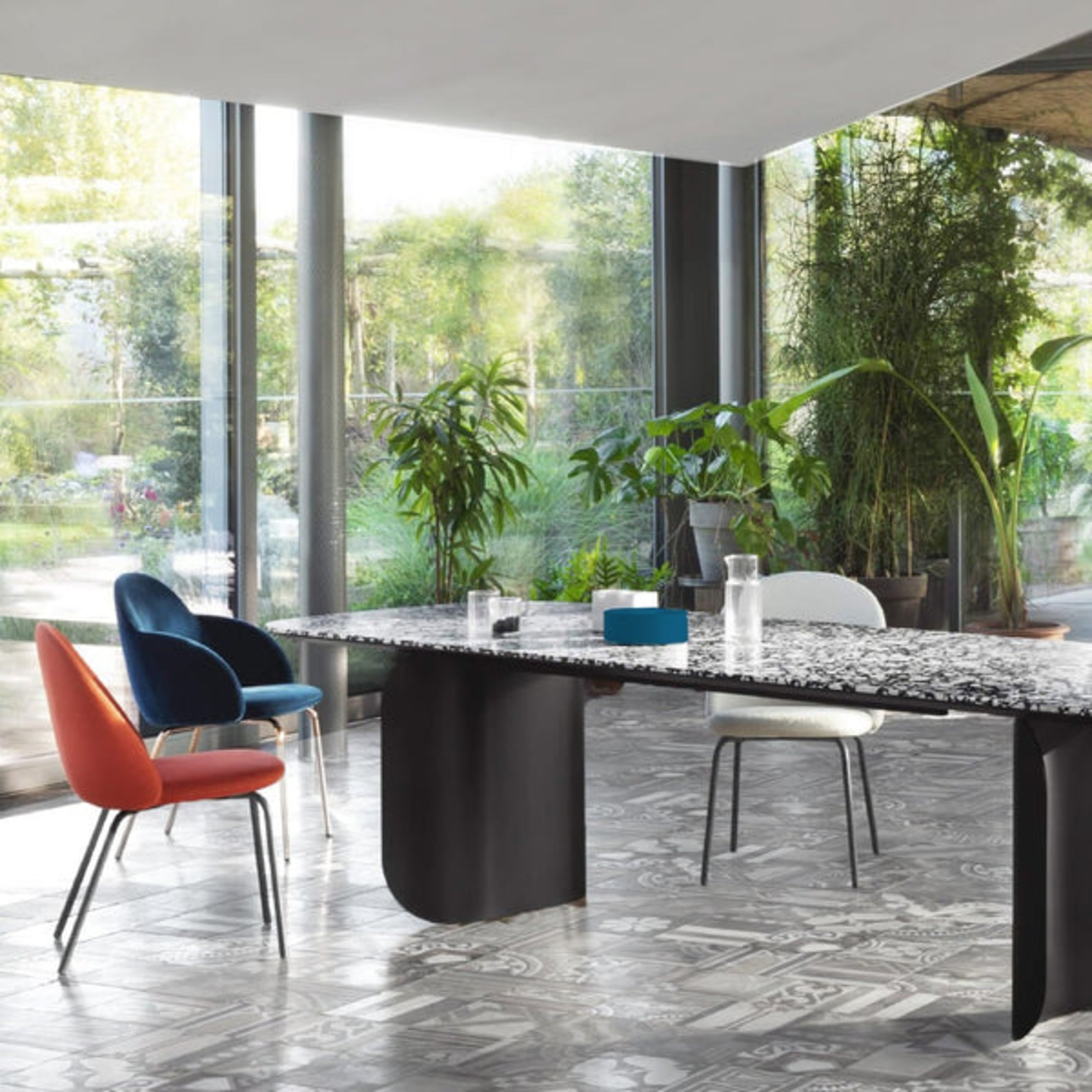 Exploring Innovative Dining Tables: Unveiling the Art of Modern Dining
The dining table has come a long way from being just a utilitarian piece of furniture. Today, it is an artistic centerpiece that brings style and functionality together.
The modern market for furniture was valued at USD 677.09 billion in 2022. It's expected to expand further at a CAGR of 5.9% through 2030. The global furniture market continues its upward growth. So, companies like Modern Loft are pioneering innovative dining tables.
These tables meet the needs of modern households. But, their unique designs allow you to add a new dimension to your interior decor. Let's delve into this world of well-designed tables that are sculptural yet practical.
The New Paradigm of Dining Tables: Beyond Functionality
Gone are the days when dining tables were mere platforms for family meals. With most families preferring open floor plans, these centerpieces play an aesthetic role. You can use your dining table to connect different zones in a contemporary home.
Modern dining tables reflect this shift with striking designs. These tables feature unique materials. These materials include ceramic, wood, and glass. Sculptural bases, bold shapes, and innovative extensions make these tables more like adaptable style statements. So, they're much more than standalone furniture items.
The residential furniture segment continues to dominate with over 60% of the market share. It has a projected 5.7% CAGR through 2030. So, their multi-functionality is key for dining tables to fit modern homes.
The Art of Material Selection: Ceramic, Wood, and Glass
Wood continues its market dominance with around 40% in revenue shares in 2022. But, Modern Loft embraces diverse materials that lend uniqueness to its dining tables. Ceramic, for instance, provides a smooth and durable surface.
Combined with metal bases, ceramic dining tables become sculptural, modernist pieces. Wooden tables use finishes like ash and oak veneers to exude understated elegance.
The minimalism of the wood oak Extendable Rectangle Dining Table makes it versatile. It's suitable for both contemporary and traditional settings. Glass dining tables infuse lightweight transparency and reflect light beautifully.
Modern dining tables combine materials based on their aesthetic properties and functional advantages.
The Versatility of Shapes: From Round to Rectangular
Smaller dwellings and open floor plans are becoming commonplace. This is especially true for major metropolitan cities. So, furniture must conform to limited spaces while serving multifunctional roles. Hence dining tables must strike visual balance while accommodating daily needs.
Modern brands offer tables in shapes, like circular, oval, square, and rectangular. These align with specific spatial requirements and layouts. A circular dining table promotes intimate family conversations without sharp edges. Oval tables maximize space efficiency in elongated floor plans.
Square and rectangular dining tables work well in confined dining rooms or kitchens. Customers can choose the ideal shape to complement their homes' dimensions. The same goes for traffic flow.
Benefits of Round Tables Over Rectangular Ones
Round dining tables offer some unique advantages over their rectangular counterparts. Let's discuss some of these here:
Promotes Intimacy: The curved edges bring people physically closer, facilitating lively conversation. Rectangular tables tend to create distance among people seated on opposite sides.

Complements Small Spaces: A round table's footprint fits well even in tight spots. It does so without compromising leg room. Rectangular dining tables can make a small room feel cramped.

Softens Visual Aesthetic: The absence of harsh lines creates a smooth, relaxed aesthetic. Rectangular tables can sometimes look too linear and mechanical.

Allows Flexible Seating Arrangements: Without any head position, round tables allow seating to be adjusted as needed. Rectangular tables have fixed head and side positions.
Clearly, the circular form hits the sweet spot between design and functionality in modern homes.
Case Study: Trey Parker's Rustic Chic Cabin 
The understated warmth of round dining tables is exemplified in South Park creator Trey Parker's rustic Colorado cabin. A chunky round wooden table with integrated benches flows seamlessly into the casual setting. Devoid of edges and corners, the table perfectly blends with the rough-hewn benches on either side. 
The seamless combo exudes an inviting, laid-back vibe that's ideal for relaxing with family and friends. This demonstrates how round tables can capture the essence of casual spaces with their fluid, organic form.
Spotlight: The Clessidra Dining Table
The demand for multifunctional, space-saving furniture is rising. The Clessidra Dining Table delivers on both counts. Its smooth ash wood surfaces taper into a sandblasted ceramic column base. This design is inspired by the elegance of modern Italian design.
The compact footprint of 47-inch diameter makes it ideal for cozy dining nooks. You can use it for kitchen islands as well. Priced at an affordable $4,482, it packs versatility and enduring style.
Spotlight: The Juice Round Dining Table
For those seeking a contemporary table, the Juice Round Dining Table fits the bill. It has a stunning wooden frame and rounded wood or ceramic top. This allows it to make a dramatic design statement.
A compact 51-inch diameter allows flexible placement while comfortably seating 4. Starting at around $7,590, the Juice Table brings head-turning style to modern interiors.
Spotlight: The Forest Oval Dining Table
Combining the beauty of oak veneer and powder coated steel, the Forest Oval Dining Table is a classic. Its smooth rounded edges and tapered legs lend an airy, minimalist look.
With a 78 x 47-inch oval top, it seats 6 people. Priced at $6,671, the Forest Table adds an effortless Scandinavian vibe to your home. It's ideal for both contemporary apartments and houses.
The Extendable Evolution: Making Room for More
The commercial furniture segment is growing at a projected speed of 6.2% CAGR through 2030. So, extendable dining tables are rising in popularity for their versatility and functionality.
Modern Loft offers innovative extendable tables, like the Diamante Dining Table. This table expands via a smooth self-storing butterfly leaf mechanism. With seating capacity expanding from 6 to 8 people, it adapts for small and large gatherings.
For flexibility, the Pechino Extendable Dining Table uses extension leaves to increase length from 74 to 118 inches. This allows comfortable seating for 6 to 10 people.
Such fluid adaptability makes extendable dining tables perfect for future-proofing commercial spaces. These spaces include restaurants, as well as ever-evolving homes.
The Aesthetic Appeal: What Designers Love
The Asia Pacific region dominates the furniture market with 40% of the revenue share. But, Modern Loft's dining tables have an aesthetic allure. This is why they appeal to interior designers worldwide.
Its many dining table options allow compact urban apartments to enjoy stylish dining. The metallic finishes and clean lines of their tables resonate with minimalist sensibilities.
The brand's unique combination of European styling and Italian craftsmanship also attracts designers. They also use eco-friendly wood for their designs, which is always a bonus. These tables don't only look appealing. They also incorporate thoughtful details for everyday dining.
The Fusion of Technology in Dining Tables
Technology is also making inroads into dining tables that meet the needs of modern smart homes. Some innovative tech features include:
Integrated Wireless Chargers: Built-in chargers allow convenient phones charging during meals.

Touchscreen Controls: Control lighting, music, temperature, or even order food via touch screens integrated into the tabletop.

Adjustable Height: Electronically adjustable tables can be raised or lowered as needed with the press of a button.  

Ambient LED lighting: LED strips installed along the edges or legs create a soft glow for visual interest.

Digital displays: LCD or OLED displays can turn an ordinary table into a high-tech entertainment hub.
While still niche, these innovations point to how technology can be subtly blended into furniture for added convenience and functionality.
The European Influence: A Tribute to Creativity, Innovation, and Research
The Middle East and African furniture market surges at a 6.2% CAGR through 2030. But, European aesthetics are permeating global trends. Modern Loft channels this influence through close collaborations with European designers. They even collaborate with manufacturers, especially in Italy.
Tables, like the Gustav Plus Dining Table, reflect this with their minimalism. The brand's European partners contribute to research and develop innovations, like self-storing extensions. They also deal with height-adjustable legs.
They adopt traditional woodworking techniques mastered over generations. This allows them to handcraft tables from natural, sustainable wood. The result is a dining collection that embodies technical nuances and stylistic subtleties. These are usually found in the epicenters of European furniture design.
Frequently Asked Questions
Q1. How Do I Choose the Right Material for My Dining Table?
Ans: Consider factors, like your interior design style, daily usage, maintenance needs, and budget. Wood requires routine polishing, but age beautifully.
Ceramic is stain-resistant and easy to clean, but is prone to chipping if mishandled. Glass is best for low-traffic dining areas as heavy use can scratch its surface. Metallic accents add sheen, but may show fingerprints. Combine materials to get the perfect mix of aesthetics and practicality.
Q2. What are the Benefits of an Extendable Dining Table?
Ans: Extendable dining tables offer tremendous versatility, especially for compact, multifunctional spaces. The expandable surface adapts to various gathering sizes. These include cozy family meals to lavish dinner parties.
The self-storing extension mechanism also keeps the table space-efficient when not in use. Such flexibility allows it to be used even in modestly-sized kitchens or dining nooks.
Q3. How Do I Incorporate a Modern Dining Table into My Existing Decor?
Ans: When using a modern dining table in a furnished home, create a smooth transition. You can do this by choosing complementing colors and materials. A wooden table with curved edges or tapered legs injects softness into interiors.
Glass or metal tables with clean lines provide the right amount of modern contrast, and are able to achieve this without seeming abrupt. Remember to select a shape and size that aligns with your existing layout. You should even ensure smooth traffic flow patterns. This ensures seamless integration, rather than jarring juxtaposition.
Why Choose Modern Loft Dining Tables
Modern Loft's collection of dining tables makes the art of contemporary furnishing accessible. These tables have innovative designs, premium materials, compact footprints and versatile extensions. So, they meet both form and function within modern households and commercial spaces.
Their European inspirations, coupled with quintessential Italian workmanship, make them design classics. These designs transcend passing fads. Elevate your interiors, and evolve your lifestyle by investing in one of these tables. They're crafted through a harmonious balance of creativity, research, and boundary-pushing innovation.