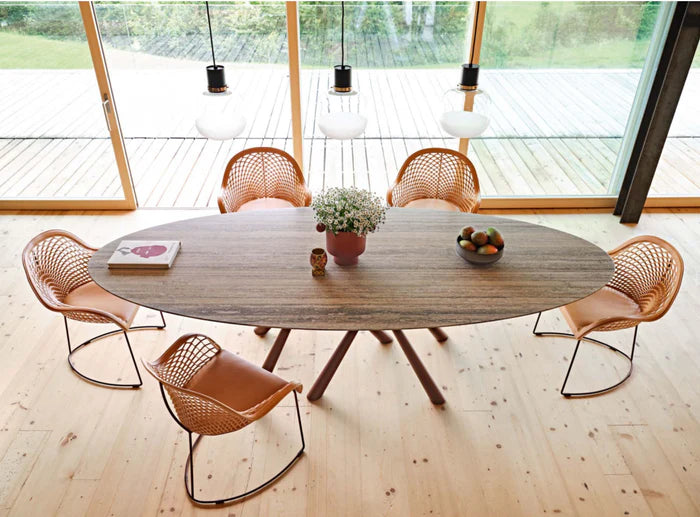 How to Decorate a Dining Table for Restaurants and Events: Key Tips
When you walk into a restaurant, you have certain expectations. One of them is to eat at a well set dining table. Not only does it elevate the dining experience, it shows that the establishment cares for its guests. Beyond that is the decor aspect of a well-set table. It impacts the ambiance. The more thought out the setting, the greater the sophistication of the restaurant. You wouldn't mind spending top dollar to feel like a star as you dine.
Now, you are a restaurant owner who wants to give your guests the same experience. Read on to discover the historical significance and evolution of dining table decor. We will also share tips on how to create stunning set-ups. And yes, you can apply these tips in your home. Watch how your events become the talk of the town with these dining table tips. We would know.
A Look at the Evolution of Dining Table Decor
From hundreds of years ago, the dining table has been a place for family gatherings. Aside from eating meals, it was also a place for hosting social events. Over time, there has been a notable and significant evolution. This reflects different design trends, personal tastes, and lifestyles.
Ancient civilizations, like ancient Greeks and Egyptians had dining tables. These comprised stone, metal, or wood. Intricate carvings, embellishments, and ornate patterns were part of the decorations. Together with this were adornments with precious metals, luxurious fabrics, and decorative centerpieces. Decorative pieces would comprise greenery, fruit, and flowers. The opulence was a showcase of the social status and wealth of the owners.
The medieval era brought in rustic simplicity where the focus was on functionality. Thus, earthenware, wooden utensils, and simple designs were common.
The Renaissance and Baroque era was about artistic expression and extravagance. Dining tables evolved more in decoration and design. Precious materials, like mahogany and walnut entered the picture. Inlays and intricate carvings completed the picture. Expensive centerpieces comprising porcelain, silver, and gold adorned the tables.


The Victorian era was all about elaborate elegance. The dining table became more formal and featured ritualistic settings. Intricate designs, fine China, silver cutlery, and other ornate elements took center stage.
The 20th century heralded in functional modernism. Materials like glass, steel, and plastic made an entry. There was also an emphasis on simplicity. Clean lines, functionality, and space efficiency were common.
The 21st century brought in a fusion of styles. Eclectic combinations of materials colors and textures became Commonplace. Rustic and minimalist designs existed. Natural elements together with modern accents created a blend of tradition and innovation.
The dining room was once viewed as a room for special occasions. Now, it integrates into open-concept plans. It has also evolved to serve as a multi-functional workspace. This is especially true amidst the pandemic. Yet, its significance as the focal point of a home remains unchanged.
The Importance of Centerpieces
The historical journey of dining table centerpieces displayed the owners' wealth and status. For instance, Victorians viewed the dining room as a gallery. One that curated beautiful centerpieces that became conversational pieces. Nowadays, we may not showcase exotic souvenirs. But we still borrow upon the creative approach to express our style and personality.
Centerpieces are important because they impact the atmosphere in the following ways:
Serve as a

focal point of attention,

drawing the visual focus. They are also great conversation starters in social gatherings.

Set the mood

through ambiance enhancement. They also communicate the theme of the decor. For instance, sand and seashell centerpieces show a beach-themed event.

Serve as

space enhancers

by creating a balance between scale and proportion of the room and table. The centerpieces can even define functional areas. Thus, a feeling of coherence and separation from other areas.

Show personal or cultural expressions depending on the individual location.

Creates memorable experiences

by creating lasting impressions.




Beyond mere decoration, centerpieces play an integral role in the dining tables set up. They can transform, evoke emotions, and enhance experiences. The abundant centerpiece options allow for experimenting. They needn't be overly complicated or expensive. Start with pieces you love and let them shine as the stars of your table.
Incorporating Functional Decor
As stated, modern dining table use has evolved. Thus, there must be a perfect balance between functionality and style. Achieve this in the following ways.
Multi-Purpose Tableware: Shop with versatility in mind. Stackable glasses plates and bowls are useful during meals. Afterwards, they serve a decorative purpose when not in use. Stacking them saves space and reduces clutter on the table top.
Dual-Purpose Centerpieces: Consider things, like potted plants or herbs. They look great as centerpieces. But, you also get a ready source of fresh herbs. Placemats can also double as desk pads, thus protecting the surface from scratches.
Storage and Display: Decluttering is essential for productivity. Get trays or baskets for remotes, chargers, and cables. A small printer stand can house equipment off the table. Create more table storage with decorative bins of baskets. There's also the option of floating shelves. These are great for displaying decorative items. You can also use them to store condiments or cook books.
Functional Textiles: This includes table runners and napkin rings. They protect the table surface while adding decorative accents. Using functional textiles can help protect against scratches and stains.
Interactive Decor: The dining table is a place for family to spend time together, and a favorite pastimes are board games and puzzle sets. You can use such gaming items as centerpieces. It keeps them handy and encourages social interaction after meals.
Edible Decor: How much more functional do you get than edible centerpieces. Fruits, veggies, or even a fondue surrounded by dippable items is great.
For dining, look for multi-purpose decor that delivers multiple levels of functionality. Try baskets over bowls to hold utensils and napkins. A low vase won't obstruct views or conversations during meals. Candles can set ambiance and provide illumination for late-night work sessions.
Utilizing Lighting to Enhance Ambience
Lighting is an integral part of decor. It also has a psychological aspect of mood enhancement. For instance, warm lighting creates a cozy atmosphere that's perfect for socializing. Cool or bright light signals concentration and focus.
Here are some excellent ideas on how to use lighting fixtures to elevate a dining table's decor.
Chandelier lights hanging over the dining table provide excellent illumination and a stunning focal point. Try one that complements the table style and decor theme.
Pendant lights bring a sleek and modern look. Go for overhead pendants for centered tables. Hanging them above the table provides excellent illumination. There's also the extra benefit of contemporary elegance.
Candle chandeliers combine the charm of candles with the chandelier functionality. This is great for creating intimate and romantic atmospheres. That makes them perfect for those cozy dinners and special occasions.
Candle holders and lanterns bring in a decorative aspect. They also give a warm glow to the dining table set-up. That impacts the mood and dining experience.
Under table lighting, like LED strips and tables are inviting. The soft diffused blue brings a contemporary feel. There's also a touch of luxury with the indirect lighting.
Sconces and wall lights near the dining area provide ambient lighting. Together with dimmers, you can create a cozy and intimate dining experience.
Adjustable task lighting with dimmer switches gives lighting control depending on the occasion.
There'so much you can do with lighting to enhance the restaurant ambience. But be careful about the type and light intensity. The aim is to elevate the dining experience while reflecting the specific occasion.
Choosing the Right Tablecloth and Runners
Don't throw tablecloths and runners into the bin of trends gone by. They are still very much in style. Beyond that they give so many benefits. There's the critical role of protecting the table surfaces, but they can also be a fantastic way to display creativity and style. Here's how to go about using them to elevate the dining experience.
Consider the Occasion
For formal events go for elegant fabrics, like satin silk or lace. Stick to neutral or rich tones. Bring a touch of sophistication with intricate patterns and embroidery. For casual events, play with colors and patterns. Try using linen or cotton because they're easy to clean, and you also get more variety in designs, patterns, and colors.
Match the Theme to the Season
Match the runners or tablecloths with the season. In spring, think about pastel shades, vibrant hues are good for the summer, while warm tones are great for the fall. Icy colors are excellent for the winter. The same applies to cultural or holiday themes. Red and gold, for example, is for the Chinese year. Christmas comes alive with green and red.
Don't forget about the centerpieces. Welcome spring with a meadow-inspired runner and vase of wildflowers or cherry blossoms. Summer calls for sunflowers, seashells, or fruit bowls of peaches and plums. For fall, amber candle holders with crisp white pillar candles are warm and inviting. In winter, evergreen sprigs, pine cones, and red amaryllis flowers set a festive tone.
Size and Fit
For formal tablecloths, aim for 8-12 inches drop from the table edge. For casual events, a drop of 6-8 inches is fine.
Mix and Match
Layering runners over the tablecloth gives depth and texture. Spice things up by choosing contemporary or contrasting patterns for an eye-catching effect.
Apply the same thinking to textures. Dining tables comprising smooth materials, like wood and glass need some character. Using a textured runner or tablecloth can give it that.
Personality and Style
There are no limits to creativity when it comes to expressing personal style. Tablecloths and runners give a perfect canvas for doing that. Play around with textures, patterns, and even unconventional fabrics for a stunning effect.

Neutrals, like ivory or ecru, as well as muted hues of blue and green work well with a variety of settings.
Folded cloth napkins add a finishing touch. Placemats in natural materials, like wood, marble, or seagrass can dress casual tables. Tailor your linens to reflect the mood you wish to achieve. 
Creating Cohesive yet Unique Restaurant Decor
When creating unique restaurant decor, think about the established theme. Also incorporate any distinctive elements that sets you apart from others. Here's how to go about it.
Define a Clear Concept
What theme aligns with your cuisine and target audience? If your forte is barbecue steak, the rustic farmhouse theme might be fantastic. If it's high-end meals, Contemporary Elegance is what you should aim for.
Color Palette and Materials
Aim for a unified color scheme that resonates with the restaurant theme. Consistent application throughout the restaurant is critical to create a sense of unity, while integrating diverse textures and materials harmonize the theme. For instance, a rustic theme may look great with reclaimed wood. Modern style should feature sleek metal and glass.
Signature Elements
Introducing signature elements can create unique focal points. For instance, a custom-made lighting fixture or a distinctive artwork will draw attention. A nice touch is to add local flair, which resonates with the community.
Lighting Design
Ambient lighting and accent lighting add interest. You can also use it to highlight specific features within the restaurant.
Furniture and Layout
Custom furniture is a fantastic idea. You can choose personalized designs that fit into the theme. The tables, chairs, and booths can become standout elements. Also ensure that the seating arrangement can cater to diverse group sizes and events.
Branding Consistency
Apply branding elements consistently within the interior decor. That applies to menus, signage, and staff uniforms. What you are aiming for is a cohesive look that tells a brand story.
Event Decor That Wows
Event decor has a huge impact on the experience attendees have. It should captivate, intrigue, and leave a lasting impression on guests. Have clarity on the theme and what you hope to achieve in the end.
Some ideas to bring in that wow experience are as follows:
Thematic Experiences
Create a theme that allows guests to have an immersive experience. If you want them to experience a meal in an enchanted forest, let the decor communicate that. Carry out the theme in every detail. This includes elements, like invitation cards, menus, and centerpieces.
Innovative Lighting
Take advantage of innovative lighting to transform the venue. For instance, project mapping can transform ordinary surfaces into changing and dynamic displays. Interactive lighting on tables and dance floors will likely delight your guests.
Floral Explosion
Let your creativity come across the floras. It is possible to create stunning installations. You could hang the flowers from suspended chandeliers. There's also the option of cascading blooms from the ceiling. Or, go all out with larger-than-life flower arrangements. These add sophistication and a bit of drama.
Impeccable Tablescapes
For formal events with luxurious tables go for table runners made of velvet or silk. That brings in a touch of opulence and luxury. Also, think about customized/personalized place settings. Print intricately designed name cards, and use unique glassware and cutlery. The guests will definitely notice and appreciate the touches.
Branding
For corporate events, incorporate brand colors and elements. This applies to the stage, signage, linens, and florals. Showcase products or solutions through creative vignettes. Highlight areas using mood lighting and sleek furniture.
Transformative Elements
For weddings, bring the couple's vision to life. Use their color palette and styles from save-the-dates to send offs. Infuse personalized details through printed menus, guest books, photo displays, and signage. Drape fabric over ceilings and walls for transformative elegance.
No matter the occasion, well-executed decor demonstrates commitment to excellence. Wow attendees while staying true to the event narrative and objectives.
Conclusion
Create memories with a well-decorated dining table. By focusing on both form and function, you can create a fantastic space. One that delivers on functionality, yet still delights. 
FAQs
 

Why has the use of the dining room declined?
The dining room's popularity started declining in the 1950s. The eating habits of Americans started changing. New innovations, like TV dinners placed less emphasis on traditional family meals. Open floor plans also blended the dining area into kitchens and living spaces. That made the dining room a less formal space.
How has the dining table's purpose changed over time?




Today, many homeowners want casual, multipurpose furnishings. Dining tables now double as workspaces and homework stations. Built-in bench seating has replaced high-backed chairs to accommodate these flexible needs. The pandemic accelerated the dining area's evolution into a multi-functional space.
What is the future of the dining room?
Going forward, comfort and flexibility may supersede formality. Banquettes with moveable chairs can make reconfiguring seating arrangements effortless. Dining bars can now integrate with kitchens, and preserving open sightlines enables rooms to adapt as needs change.
How can I make a small dining space feel grand?
In small spaces, stick to light, neutral colors to give the illusion of airiness. Suspending a statement light over the table draws the eye up. Round tables feel more intimate than rectangles in tight quarters. Built-in banquettes lined with cushions maximize seating capacity. Finally, keep surfaces clutter-free and style minimally for a refined look.
What are some quick tips for updating my dining decor?
Start by investing in high-quality furniture and tableware. Add elegance with statement lighting, fine art, and custom rugs, and pay attention to small details like personalized place cards and exquisite accessories to create a refined and sophisticated dining experience.