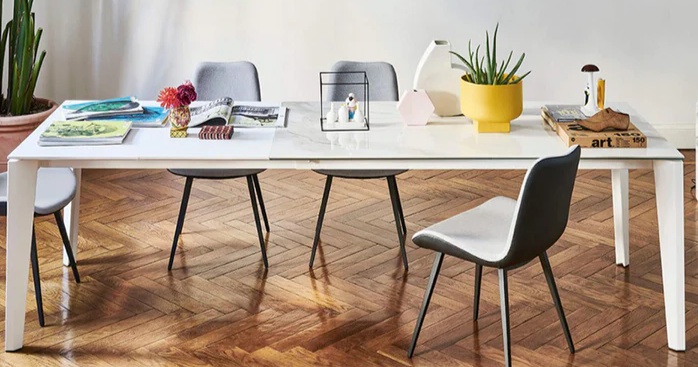 Contemporary Homes' Extendable Dining Tables: Space-Saving Solutions
Customers in the furniture market are constantly changing their spending habits. This can be attributed to factors, like the growing average disposable income. As a result, there have been increased investments in interior design and renovation projects.
Luxury furniture manufacturers have had to make attractive products, like luxurious extendable dining tables to meet the unique needs of their customers. This has caused furniture makers to integrate advanced technologies in their end-products to enhance demand.
The requirement for luxury furniture, like luxury modern dining tables, has been increasing at a considerable rate. It's no wonder that the global furniture market size is estimated to grow from USD 541.52 billion in 2023 to USD 780.43 billion by 2030.
Here is a line chart showing the growth in the market size of dining tables between 2016 and 2020.
The Evolution of Space-Saving Dining Tables in Contemporary Homes
A modern dining table is a must-have piece of furniture you need in your home. It may be that you're designing new interiors, or are doing a complete renovation of your home. Whatever the case, you'll need a dining table to use during meals.
Dining tables have been evolving over the years. This evolution has also been keeping in mind the space that modern homes come with. This has enabled the availability of lux dining tables in functional designs that look good and can save you space.
Let's now look at the most common types of furniture in American homes through the bar chart below.
Space-Saving Dining Table Ideas
       1. Low Height Dining Tables
Consider a low height wooden rectangular dining table for a narrow dining area. Inspired by the Japanese-style dining setup, this piece of furniture has gained a lot of popularity.
The luxury modern dining table can be better paired with small cushioned dining chairs for a comfortable and cozy feel. This kind of dining table style makes rooms with a low ceiling appear taller and more spacious.
      2. 

Convertible Dining Tables

Keeping a home guest-ready every day is not always possible, especially if you have a small place. The limited space will not allow you to have a modern, large dining table unless, of course, you become creative.

 

Having an eight or ten-seater dining table can be overwhelming, and that's where convertible dining tables come in. Some wooden tables, for instance, come with an extension that you can fold. This helps to make the table bigger when necessary. 
      3. 

Wall Mounted Dining Bench

It's important to be imaginative with your furniture designs in cases where you have a small dining space. Wall-mounted dining benches are ideal as the style showcases a dining table that's positioned by the wall. That helps to save space that can be utilized in different ways.
      4. 

Drop Down Dining Tables

This dining table idea is popular among homeowners without a dining space. Drop down dining tables are great because they can also act as a shelving unit. They can be pulled down to serve as a table and provide extra space when needed.

 
Material Matters: What Makes a Good Extendable Dining Table?
The materials used on extendable dining tables can make or break its longevity and performance. Here are some factors to consider when buying this piece of furniture:
       1. Material and Durability
There are a lot of options available in the market when it comes to materials used on extendable dining tables. We have solid wood, oak, laminate, glass, ceramic, marble. We also have a combination of glass and metals.
Solid wood is the most preferred choice. This can be attributed to the fact that they provide the best form, function, and durability. Additionally, metals like iron and steel are used for the base of extendable wooden dining tables.
These robust materials offer stability and are a great investment. They're long lasting and always uplift the aura of your place.
      2. 

Weight and Stability
Solid wood is derived from natural resources, which makes it resilient and long lasting.
Solid wood is much sturdier compared to plywood and engineered wood. It also showcases the beauty of the environment by displaying the natural grain beauty, strength, and organic character. These characteristics are absent in other processed materials that you may think of.
Note that the best material for manufacturing your extendable dining table depends on your personal style. It also depends on your budget and other needs. Remember that you can always combine various materials to come up with a unique and functional design. 
The Maintenance of Extendable Dining Tables
After the purchase of an extendable dining table, it's important that you maintain it to preserve its durability. These pieces of furniture need a bit of maintenance to ensure that they remain in good condition for longer periods.
Here are some tips to help you take care of your luxurious dining table:
Protect the surface to prevent scratches and damages to the table surface. It's advisable that we use a tablecloth or a placemat during meals. This ensures that it's a lot easier to clean up spills and crumbs.
Avoid direct sunlight as it causes the table's surface to fade or even discolor over time. To avoid this, keep your extendable dining table away from direct sunlight.
Regular cleaning of your extendable, round eating table prevents the accumulation of dirt and grime. Find a soft, damp cloth that you can use to wipe the table clean. Dry it immediately with a clean, dry cloth and avoid abrasive cleaners that can damage the surface.
Lubricate the mechanisms of an extendable dining table because they can be stiff and difficult to open. We can avoid this by lubricating these mechanisms regularly using a silicone-based spray lubricant.
Deal with issues immediately when your extendable dining table develops problems, like difficulties closing or opening the table extension. It may also have loose screws or bolts. As such, it's important that you address these issues as soon as they occur. That will help to avoid further damage and ensure that your loft table remains stable and secure.
Damages to Avoid on Extendable Dining Tables
Accidents happen and despite your best efforts, these tables can still be prone to some issues that may lead to damages. Here is what you should watch out for, fix, avoid avoid.
Cracks or Scratches: Your modern luxury dining table can get scratches, or develop cracks over time. That's why as suggested earlier, you should use a placemat or tablecloth. You should also try to avoid placing heavy or sharp objects on the table.
Warping: These tables can be prone to warping, especially when exposed to extreme temperatures or moisture. To avoid this, keep the tables away from sources of moisture and direct sunlight.
Loose screws and bolts: Screws and bolts are bound to become loose over time. This can cause a table to wobble and become unstable. That's why it's important that you periodically check the table to tighten loose bolts and screws.
Conclusion
Extendable dining tables are versatile furniture that don't take up much room. Knowing how these tables work and considering factors, like the materials used to manufacture them, as well as how to care and maintain them is very important.
At Modern Loft,
we have a large selection of extendable dining tables. Our team of experienced designers can help you get the perfect dining table for your needs.