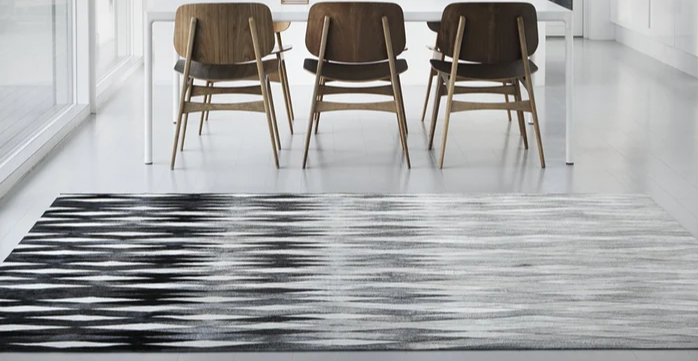 The Right Rug Size for Your Dining Table: 10 Tips for a Perfect Selection
A dining room rug brings warmth and style to your space, but with so many sizes and shapes to choose from, how do you ensure you get the perfect fit? There are so many factors to consider when buying a rug for your dining table.
First, you need to think about whether you want a rug for your dining table. These days, rugs, like table clothes, add an extra dimension to dining tables. The right rug can make your table appear both classy and cozy. Choosing a rug for your table, however, can be a daunting task, which is why we're here.
Here, we break down the key factors for flawless rug-sizing. Let's dive in!
The Influence of Dining Table Dimensions on Rug Size
If you're still wondering whether or not you should get a rug, maybe you should give it a go. Designers often agree that a rug with a dining table helps anchor it. It could also fill up empty spaces effectively, and make your room warmer look.
The best part about using a rug is that it can make your dining room appear larger. If you choose the right rug, it can tie your furniture together and make the room look more spacious. But, considering the size of your dining table is important before you buy a rug. 
The size and proportions of your dining table should influence the dimensions of your rug. A too-small rug can look out of place, while an oversized one can overwhelm your table.
To get accurate measurements, make sure to factor in any leaves or extensions to your table's dimensions. This gives you the rug size needed to host your table at maximum capacity.
Also, consider the table's shape. Round tables suit round rugs, whereas, rectangular tables pair best with rectangular or oval rugs. Keep this in mind as we explore other sizing factors.
The Golden Rule: Accommodate the Chairs
Simply put, your rug should be large enough to allow chair legs to rest on it. This should hold true even when the chairs are pulled out from the table. The standard recommendation is a rug at least 24 inches wider and longer than your table. This leaves a 12-inch border on all sides. This leaves you with sufficient space for tucking in your chairs.
The global rugs market is expected to grow steadily in the coming years. Designers highlight the need to choose rug sizes that accommodate chair dimensions. An oversized rug can ensure our chairs sit stably for years to come.
Room Orientation and Additional Furniture
While factoring in your table and chairs, don't forget the room itself. Your rug should complement the existing layout and dimensions of your space. Avoid cramming it wall-to-wall, or underneath other furniture. Remember to avoid hutches and cabinets in particular.
As the leading rugs market, America's interest in home renovations makes room orientation key. Balance is essential, so an undersized rug floating in space can seem like an afterthought. Expert placement is vital for creating a grounded, polished look.
Rug Placement Strategies
Now, for the fun part, deciding on where your rug should go. The most popular option is centering it underneath the dining table. This neatly defines the space while allowing sufficient chair clearance.
Alternatively, you can align one edge with the head of the table for a more dynamic look. This can add visual interest while demarcating the dining zone.
Shape Matters: Matching Rug Shape with Table Shape
Complementary shapes between rug and table create a cohesive aesthetic. Round and oval rugs suit round or oval tables. But, rectangular rugs pair best with rectangular tables.
That said, contrasting shapes can also work with proper spacing. A round pedestal table on an oval rug is a great example of this. When mixing shapes, allow adequate clearance so the rug doesn't crowd the table's legs.
As non-geometric rug patterns gain popularity, this approach adds eclectic charm. Just be sure to mind the inches so an intriguing combo doesn't become a tripping hazard!
Size Guide for Different Dining Table Sizes
To further refine your search, here's a quick guide for recommended rug sizes based on table dimensions:
| | |
| --- | --- |
|  4-6 chair rectangular table | 6' x 9' or 8' x 10' |
|  6-8 chair rectangular table | 8' x 10' or 9' x 12' |
|  4-6 chair round table | 8' round |
|  6-8 chair round table | 9' or 10' round |
|  Oval table | Atleast 24" wider and deeper than table |
These sizes ensure ample clearance for chair legs without overwhelming the room. Tweak dimensions to your needs. But, use the 24-inch minimum border rule for foolproof chair accommodation.
Expert Tips for Rug Success
- Invest in a quality pad to protect your rug while preventing slips.
- Match the color and design of your rug to the aesthetic in your dining room.
- Avoid using rugs that are too heavy, as these won't be easy to clean.
- Avoid placing furniture on your rug because it can crush fibers or create dents.
- Rotate periodically to evenly distribute wear and tear.
- Professionally clean every year or two to maintain its appearance and longevity.
- Check for manufacturer warranties to indicate faith in a rug's durability.
Frequently Asked Questions
Q1. Is it Absolutely Necessary for My Rug to Extend Beyond the Dining Table?
Yes, your rug should measure at least 24 inches wider and longer than your table size. This allows for pulling chairs out without slipping off the edge.
Q2. What's the Ideal Rug Size for a 6 Person Dining Table?
For a 6 chair rectangular table, target a rug ranging from 6' x 9' up to 8' x 10', depending on your space. Round tables suit an 8 ft rug, potentially up to 9 ft or 10 ft for ample clearance.
Q3. Can I Use a Rug Shape That's Different from my Dining Table Shape?
Absolutely, just mind the size and spacing to avoid cramping chair legs. Contrasting shapes add an eclectic flair when done intentionally.
The Perfect Fit Awaits
With an eye on dimensions, chairs, and style, you're now equipped to find the perfect rug for your dining space. From anchoring the room to adding a decorative accent, a rug brings your dining ensemble together.
Pay attention to details, such as size, shape, material, placement. Then, you can enjoy the process of selecting your design centerpiece. Follow these tips and soon you'll be gathered around your table sitting pretty on a picture-perfect rug!