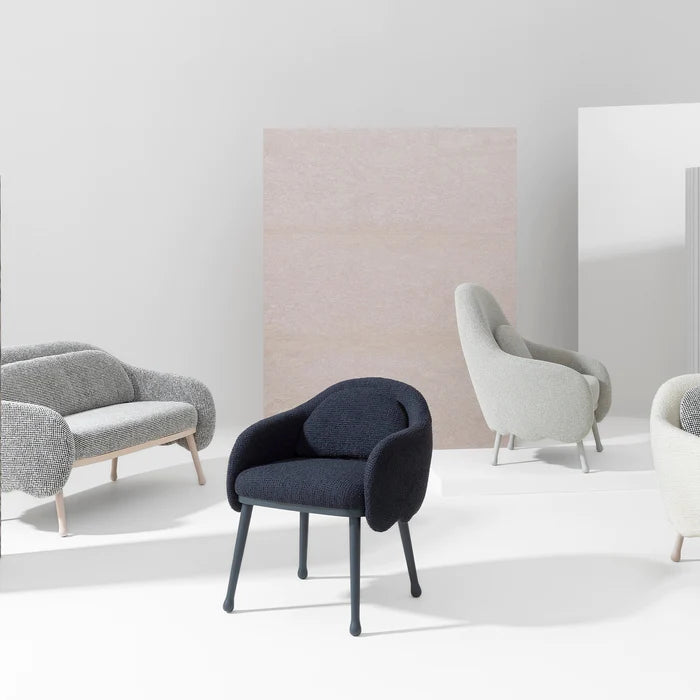 How to Reupholster a Dining Chair Like a Pro: Step-by-Step Guide
Upholstery has gained a broad presence in the global furniture market. It's described as a craft that's used for covering works on old furniture, like chairs, benches, and stools.
Apart from providing smooth fabric covers, upholstering also supports the furniture through springs and coils. Modern manufacturers have innovated home furnishings and introduced upholstered furniture with wide varieties in terms of shape, sizes, and aesthetic appeal. The materials used can include silk, linen, cotton, polyester, and leather.
With the rising costs of furniture and greater awareness of sustainability, more people are discovering the art of reupholstering as a budget-friendly and earth-conscious alternative to buying new furniture.
In this comprehensive guide, we'll walk you through everything you need to know to reupholster your dining room chairs like a professional.
The Benefits of Reupholstering Over Buying New
Furniture can easily get worn down from daily use. Many people are quick to rush out and purchase a brand new piece to get rid of their old furniture. Instead of sending old dining chairs to the landfill and buying expensive replacements, reupholstering allows you to refresh your dining space while saving money. This also helps to reduce waste.
We have put together a summary of the key benefits that come with reupholstering compared to buying new furniture. 
Eco-Conscious
One major benefit that comes with reupholstering is that it's more environmentally friendly compared to buying new dining chairs. A lot of furniture these days are mass-produced using sustainable methods of production, and unsustainably acquired materials.
The art of upholstering prevents your old dining chair from ending up in a landfill. That's because upholsterers have their own ways of recycling the fabric and the materials taken from old furniture that's not available in your everyday recycling. 
Cost-Effectiveness
The reupholstering art may seem like an expensive process, but it's a lot cheaper compared to repeatedly purchasing lower-end furniture.
To begin with, most of the modern and affordable options in the market have a significantly lower level of craftsmanship. Due to this, the furniture tends to break down faster and often look noticeably cheaper.
If you have a reliable and exceptionally made dining chair with a frame that's in fine condition, reupholstering may be ideal, as it can return it to an immaculate state. This allows you to retain a high standard of quality in your dining area with your chairs without spending a lot of money. 
Antique Revitalization
The benefits of reupholstering also extend to antique revitalization. A homeowner may have a set of dining chairs that are a priceless heirloom.
Although every successive owner may have treated it with proper care and maintenance, there are chances that it's still gently eroded due to the many decades of use.
Reupholstering such furniture helps to reinstate classic sophistication and grandeur. You can shop around for materials, like damask and floral fabrics, which may be in line with your antique's design. You can also redesign the heirloom to suit your overall style by choosing a fabric with patterns and colors that are in your dining space.
Convenience
Convenience is another big benefit of reupholstering.
Finding new furniture that matches your home can take a lot of time and effort. If you settle on reupholstering, the only challenge you may face is deciding which fabric to use.
The art of reupholstering allows people to keep the shape and style of the furniture that they like. It is especially ideal for dining chairs that have been selected to match a specific style or fit. The art gives you the freedom to create a whole new look without compromising on your preferred comfort. 
Expanded Style Possibilities
Despite having a lot of chairs and sofas to choose from, you can be limited by the designs of different manufacturers. On the other hand, there are limitless possibilities when you decide to reupholster a piece of furniture.
You may have a vision in mind for the furnishing, but you can't seem to find a product that matches the vision. You can achieve harmony between the silhouette, pattern, colors, and texture if you choose a perfect designer fabric. The furniture can also acquire a unique status because you've customized it to your taste. It is a great chance for you to add a personal touch to your décor. 
Value Sustainability
Whether sentimental or monetary, your dining chairs certainly mean something to you. Throwing it away for a brand new set can be a difficult decision to make.
Reupholstering, however, gives you a chance to freshen up the tired and dated furniture, and keep to modern trends without losing the comfort of your old furniture. If it's an antique piece, changing its fabric may give it a whole new lease on life. This can happen without you losing the value of the original piece. 
Choosing the Best Fabrics for Reupholstering Dining Chairs
With textile production being one of the world's oldest and largest industries, the array of upholstery fabrics is endless. As such, homeowners have a lot of options when it comes to upholstery fabrics. How, then, do you choose which fabric options withstand the test of time for your dining chairs?
Here is what to look out for when choosing fabric for reupholstering your chairs: 
The Potential to Fade
When buying upholstery fabric, it's important to think about the dining room that the chairs will be placed in. That's because, if the room receives a lot of sunlight, it would be best to invest in fabric that's already toned for light instead of the dark colored ones.
Sunbrella fabrics, for instance, can be used inside, as well as outside. They're also fade-resistant and would be ideal for a dining area that receives a lot of sunlight. Keep in mind that you can't use spun polyesters for inside upholstery. That's because although they might have pretty designs, there are chances that your chair will quickly wear out. 
Color
The color of the fabric is usually the first thing that comes to mind when purchasing furniture. That's because it has a significant impact on the décor. Thus, you must ensure that the choice you make is one that you'll be happy with for a long time.
It might, for instance, be best to avoid bold colors if you have a small room. Neutral colors are usually the safest as they tend to satisfy you over time. You also want to avoid delicately colored fabrics, especially if you have kids or pets.
To strike the right mood, consider the color temperature, as warm and cool colors can affect the mood of the room. Make sure that this aspect is part of your decision-making, and unless you like trendy colors, you'll want to avoid them because they quickly become outdated. 
Durability
The level of fabric durability differs depending on the piece of furniture and the room it's to be used in. Personal aspects of the family, like the presence of children and pets also comes into play.
Woven patterns hold up longer compared to the printed ones, as well as higher thread counts and tight weaves. Thread count refers to the number of threads per square inch of a fabric. You must also note that denser fabric lasts longer.
Choose a fabric based on who will be frequently using the chairs. If you have pets in the house, consider a microfiber fabric or leather because they can withstand extra wear and tear. Durability is important in cases where the chairs will be in daily use. 
Style
It's important to select a fabric that complements the chairs and the interior decor of your dining room. The fabric is supposed to be harmonious with the style and character of the piece its covering, and the surrounding furniture.
Traditional fabric, for instance, would be an ideal choice for a traditional-style frame. If you have an adventurous sense of style and know-how to merge two different styles, why not go for it? It is an approach that can add originality to your space.
A good example of such a unique choice might be a geometric design on a wing-back chair. The wing-back chair, an accent in itself, may work best in a contemporary dining room. It may allow the print to connect to the rest of the decor.
Remember that some fabrics appear casual, while others look more formal. Select the kind of fabric that echoes your style and the mood of your dining room's décor.
Consider the scale of the pattern because it must be appropriate to the size of the furniture it's covering and the room size. A large and bold pattern might work better in a larger dining room. A more muted or smaller one may be an ideal choice for a smaller space.  
4. Fabric Composition
When shopping around for upholstery fabrics, you'll come across different types. Don't be surprised if you notice that the material contents vary a lot. Within the velvet category, for instance, you will find polyester, cotton, silk, linen, and mohair velvets.
All these are not manufactured equally when it comes to cleanability, durability, and general longevity.
You must also remember that other fabrics have different compositions and blends. We'd advise that you do your homework to ensure that the fabric composition matches your lifestyle. Furthermore, it shouldn't be prone to getting overly stretched out, something that happens with linens. 
Calculating How Much Fabric You'll Need
Getting the fabric measurements right is very important, since you'll want to minimize waste while ensuring you purchase enough yardage to complete the project. Here's how to determine how much fabric you'll need:
Measure the length and width of each chair's seat in inches, rounding up to the nearest inch.
Add 4 inches to each dimension to allow for stapling and potential pattern matching.
Multiply the two dimensions together to get the total fabric needed per seat in square inches.
Divide this number by 63 (for 45" wide fabric) or 45 (for 60" wide fabric) to convert to the increment of whole or partial yards you'll need.
Buy 15-20% extra yardage to allow for pattern matching and miscues.
Let's assume that your chair seat is 18" x 16". Adding 4" to each dimension, you get 22" x 20" = 440 square inches of fabric needed for that seat. With 45" wide fabric, 440 divided by 63 equals 7 yards of fabric required for that single chair seat. Buy 8 yards of fabric to have a healthy cushion. An extra 1/4 to 1/2 yard per seat adds insurance against errors.
Following these calculations eliminates guesswork and ensures that you buy just enough fabric at once.
Assembling Your Reupholstering Tool Kit
A quality reupholstering job relies on having the right tools. Below are some must-have tools for expert dining chair reupholstering:
An Upholstery Staple Remover:

This helps to remove old staples without damaging the frame.
Flathead Screwdriver:

This is used to remove the seat from the chair frame before reupholstering.
Needle Nose Pliers

. This grips and pulls out deeply embedded old staples.
Fabric Scissors or Shears:

This is used to cut fabric and trim away the excess.
Tape Measurer:

This is required in measuring dimensions throughout the process.
Upholstery Staples:

Get ½ inch staples to ensure a tight hold.
Protective Gear:

Gloves, eye protection, and a mask to stay safe from debris.
Pry Bar:

This is optional for extra leverage when removing seats.
It's important that you invest in quality tools that can get the job done more efficiently. That helps to minimize hand fatigue especially when working with multiple dining chairs. 
Step-by-Step Instructions for Reupholstering Dining Chairs
Now that you understand the benefits, get your materials ready, and have the proper tools at hand. Let's dive into the reupholstering process step-by-step: 
Remove the Seat and the Old Fabric
First, you'll need access to the chair's internal framework to which you'll be stapling the new fabric. Start by:
Using a flathead screwdriver to detach the seat bottom from the chair frame.

With pliers, grip any exposed staples and remove them.

If required, use a pry bar for extra leverage to separate the seat.

Then peel off the old fabric and discard or recycle it as desired.
Removing all staples now prevents headaches later. 
Assess and Replace Padding
Examine the foam, batting, and plywood under the seat fabric. Replace any deteriorated materials to maximize the chair's comfort and support.
For the plywood, use 1/4" to 1/2" plywood, and cut precisely to seat dimensions.

For the foam, get a standard 1-2" upholstery foam that works for most dining chairs. 

With batting, a quilter's polyester batting can add loft well.
Upgrade to high-density foam for extra durability. 
Cut Fabric to Size
Use a tape measure and fabric scissors to cut the new upholstery fabric into size by:
Measuring the seat dimensions and adding 4" to the length and width.

For patterned fabric, align the patterns attractively at seams.

Cut precisely along the straight grain lines for the best durability.
Add extra inches to be safe if the fabric frays. 
Layer and Position the Materials
On the underside of the seat, layer the materials in the following order:
Batting

Foam

Fabric (face down)
Smooth and adjust layers until fabric is centered and evenly positioned. 
Staple Fabric to Underside
Flip the seat over to expose fabric side up. Staple the fabric to the seat's underside by:
Pulling the fabric taut across the center and staple into place.

Work outwards from the center and space the staples 2-3 inches apart.

Check the tension frequently and keep the fabric very tight.
Re-staple any spots that feel loose or allow wrinkles in the fabric. 
Staple Corners and Trim Excess
For smooth corners, diagonally fold the fabric inwards and staple along the fold. Rotate and repeat this on each of the corners. Once fully secured, use a pair of scissors to trim excess fabric, leaving a 1/2" seam allowance. 
Reattach Upholstered Seat
With fabric stapled smoothly across the underside, screw the upholstered seat back into the original holes in the chair frame. 
Apply Protective Spray
Lightly spray fabric with Scotchgard or a similar upholstery protector. Allow it to completely dry before using the chair.
Set chairs upright and admire your professionally-looking upholstered chairs!
Should You DIY or Hire a Professional?
While DIY upholstery is rewarding, it requires an eye for detail and the willingness to learn the required techniques. The key benefits of hiring an experienced upholsterer include:
Experience: Professionals have specialized tools and streamlined workflows.
Efficiency: Reupholster 6+ chairs per day versus 1-2 for DIYers.
Problem solving: Professionals are good at handling tricky repairs and adjustments.
Finishing touches: A professional can help you with proper binding, welting, and tufting that takes years to master.
The only issue with dealing with professionals is that the cost tradeoff can be substantial. Professional reupholstering generally ranges from $200 - $500 per dining chair.
It's important to know your budget, skillset, and quality expectations when deciding between DIY and outsourcing. Note that either route yields incredible results. You just need to be sure to care properly for your chairs by gently spot cleaning spills and rotating seat cushions to distribute wear patterns. With periodic reupholstering, you can enjoy your dining chairs for decades to come.
Conclusion
Reupholstering furniture with new fabric can work wonders on your dining area. You may be updating the dining chairs that have seen better days or sprucing up a thrift shop discovery. Whatever the case, reupholstering helps to increase comfort, add style, and give your furniture a brand new look. 
Frequently Asked Questions
Can a chair be reupholstered over existing fabric?
Reupholstering over old fabric can make the process a lot easier. If your new material fits snugly over the chair's original upholstery, you can upholster directly over existing fabric.
How many yards of fabric are required to reupholster a chair?
One yard of upholstery fabric equals 3 feet long. However, different fabrics can vary in width. It is best to determine the width of your fabric and calculate how much material is enough to reupholster your chair. Measure the surface of the current fabric and add at least 1 to 2 inches to allow for seams and possible fraying.
Is reupholstering a chair really worth it?
Reupholstering a chair is worth it, especially because it's cheaper than replacing it. Only about ½ yard of fabric is required for a dining chair seat. Adding new fabric to a fully upholstered chair requires more material. The good news is that it often costs less than purchasing a new chair.