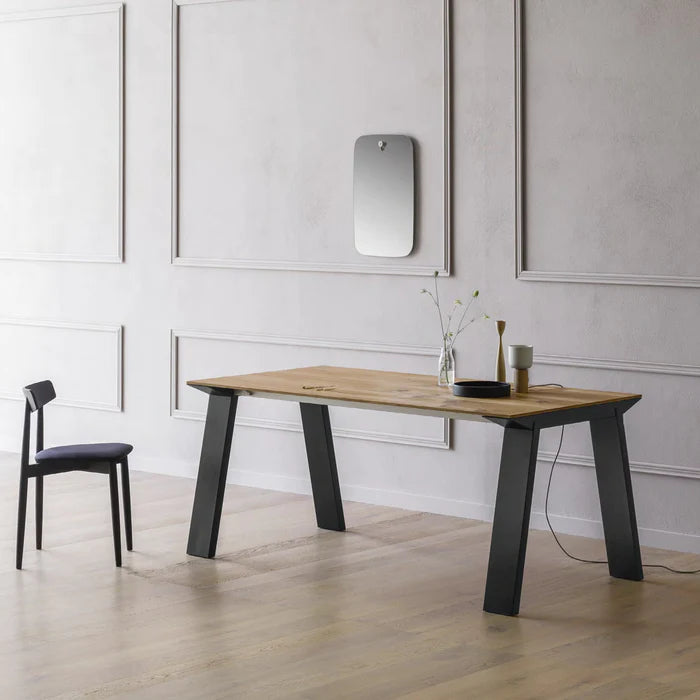 Choosing the Right Shape for Your Dining Table: A Guide to the Perfect Fit
Which dining table shape would you say fits the needs of your space? Is it the obvious and popular choice of rectangle, a round dining table, or would you rather have an oval or square-shaped table?
Choosing the right-shaped table can be tricky, however, you must note that the best dining table is one that works for your budget and space. It must be solidly constructed, fit well in your space, and have a style that you'll love for a while.
There are certain factors that you must consider when choosing luxury dinner tables. But before doing that, you should be wary about giving into trends.
A unique, modern dining table should last at least 10 years, but if you get something that's too funky with lots of details, you may wake up one day wondering what in the world you were thinking. So, it's important that you keep your small, modern table simple.
Apart from affordability and the timelessness of the style, stability and construction are very important. Think about whether it is comfortable to sit on, or put heavy weight on the dining table you are considering.
Examine the floor models for any signs of wear, and look for nicks and scratches. This is important because it can show you how long your eating table may last through serious use.
The Geometry of Dining: Shapes and Their Impact
The dining table is not just a simple piece of furniture. It's the heart of the home where friends and family gather for cherished memories. That's why its shape is important in influencing how those memories are created.
It also plays a role in determining the feel of the room and the experience of those seated around it. That said, let's talk about the different shapes of dining tables:
      1. 

Rectangle and Square-Shaped Tables

The rectangle is the most preferred shape when choosing dining tables. That's because many rooms are rectangular, so the lines of a rectangular table echoes within the space. The results usually end up being a sleek and cohesive effect.

 

A rectangular loft table is ideal if you often accommodate a large number of guests. Your table can be contemporary or traditional considering the length of rectangular-sized dining tables. These tables can also afford to be quite narrow.

 

Just like rectangular tables, square-shaped dining tables are a contemporary option. They, however, look better in square-shaped rooms and are the best tables for small spaces.

Note that bigger square-shaped tables take up a lot of space. This means that people seated on opposite sides can be too far apart for a comfortable conversation. The smaller ones, however, can make the people seated on the opposite side feel closer and comfortable for a good conversation.
      2. 

Circular or Round-Shaped Eating Tables

Circular, or luxury, modern round dining tables are good alternatives to rectangular dining tables. That's mainly because the curves are currently trending, and the shape may be a great choice for your kitchen. This shape is just as appropriate for breakfast as it is for dinner.

 

It is also perfect for parties, since guests can easily talk to each other. This is unlike rectangle or square-shaped tables where guests are seated opposite each other.

 

Note that round dining tables are ideal for small gatherings. They're also ideal for an uneven number of guests. The silhouette is easy on the eye as there are no sharp corners where kids can accidentally bump their head.
      3. 

Elliptical or Oval Luxury Dining Tables

The length of oval dining tables makes them suitable for large dinner parties. Their curved corners give them a soft flow. Oval tables look awesome in rectangular rooms.

 

Check out these bold, contemporary loft dining tables to see how stylish an oval dinner table can be. There's no doubt that these tables are a great addition to a sleek and smart modern home.

 

Now that you understand the various shapes used in the making of dining tables, here is a bar graph to show you the statistics in terms of the popularity of dining table shapes.

 
Factors to Consider When Choosing a Table Shape
Getting a perfectly-shaped dining table takes a lot of imagination. Of course, the size and material must also be considered. Here are some factors to consider for a perfect fit:
      1. Think of Your Needs and Assess Your Space
Square and rectangular dining tables are the most common as already mentioned. That's why you'll find that a great number of choices are in styles and sizes with extendable options.
Round and oval tables have a little more space to allow users to move around. That's because they cut off all the corners to free up more available surface area.
When choosing a dining table, you must also consider your space as well as the purpose of the table. Will you only use it during the holidays, or do you intend for it to be an everyday setting for meals or will you use it for a formal dining room for hosting parties? Keep in mind that less formal tables are more durable. Formal, unique, modern dining tables require more upkeep, which comes down to materials.
      2. 

Make Use of Measuring Tape

Your luxury modern round dining table must fit into your dining area, but let's not forget about how deceptively large a dining table can be. That's why it's important to account for the spaces around it as well.

 

Apart from the tables' footprint, you must leave about three feet of breathing room on all sides. The more space the better, as it ensures that you can sit comfortably in your chair and move around the space.

 

It doesn't matter whether your dining area is part of a multi use space or a separate dining area, you should start by measuring the length and width of the area meant for the dining table. You'll then subtract about six feet from your measurement. This can help you to get a target dining table length and width.

 

Think of how the table will be used, understanding that every place at the table needs 22 to 24 inches of the space. If you have large chairs, they'll need more space at the table.

 

Note that the visual weight of a piece of furniture influences how big it feels in your space. Your stylish dining table may fit, however, it may seem huge when it's dark or the table is too close to other furniture in the room.
      3. 

Table Supports

The base of your table, which can be the pedestal, trestle, or legs all have an effect on how many people can fit at a dining table. You must ensure that the leg space isn't invaded by the supports. There must also be enough space for your knees when you scoot all the way in. If you are able to cross your legs underneath the table, even better.

 

Pay attention to the width and where your legs are placed to ensure flexibility for your guests. An eating table with thinner legs can make it easy to squeeze an extra chair in.

 

A trestle table or a pedestal can provide more flexibility to add more people to the table. You must, however, be wary of larger round pedestal-style tables. They can be a little less sturdy compared to those with four legs.

 

Trestle tables provide flexibility along the sides of the table, but keep in mind that they can limit space at the ends of it.
      4. Get the Right Material
Getting the right materials for your luxury dinner tables can be a challenge. Remember that you need to balance the cost, ease of care, and your personal style. A table that's not a good fit on any of these may lead to a buying decision that you'll regret later. Here are some of the most common materials:
Plastic and Laminates: Manmade materials are an inexpensive option. Whether molded into a shape or glued onto plywood, these materials can last a long time. They also tend to resist staining and require very little effort to maintain.
Wood: Solid wood is a classic material, and is durable and easy to repair. Keep in mind that wood expands and contracts either due to heat or humidity. This causes the material to show scratches and wear over time, which is easy to repair.
Stone and a Stone-Look: Table tops materials from stone like marble and cast stone are durable. They can, however, be porous and absorb stains easily, making it difficult to repair. They're also quite heavy and their prices usually vary.
Glass: Glass table tops are relatively inexpensive and can create a feeling of space and openness. Glass is not susceptible to moisture, but it can chip, scratch, and even crack from heat. A good glass table top can last for a long time if you're not too clumsy.
Metal: Metal materials like stainless steel are frequently used for table bases. The best thing about these materials is that they're durable and are not easily damaged. But just like glass, metals show every fingerprint because of their higher-shine. This means that users will need to have some special cleaning tools to keep their furniture clean.
FAQs: What You've Been Asking
Q1: Can I use benches instead of chairs to save space?
A: Absolutely! Benches are great space-saving solutions. They work especially well alongside rectangular tables, squeezed neatly under the overhang. Opt for backless benches for easy sliding.
Q2: How do I know if a round table is too large for my space? 
A: Pay attention to the conversational distance - a round table larger than 60 inches across forces guests to shout across the table. Also, allow enough clearance for chairs to fully pull out without hitting walls.
Q3: What's the minimum space needed between the table and the wall?
A: For easy movement around the table, allow 42-48 inches of clearance. Tight quarters under 36 inches will feel cramped and awkward for guests.
Conclusion
As one of the most utilized pieces of furniture, buying a dining table comes with a lot of factors to consider. The phrase "Buy Well, Buy Once" couldn't be truer when it comes to the modernist dining table as it's worth the investment.
Don't just pick a dining table to match your chairs. There are a lot of factors that shouldn't be ignored as shown in the article. It may have seemed like a daunting task, but that's why we have this guide. Now, go online and buy a dining table that suits your budget and space.